Why fruit and chocolate are a match made in heaven
Taste. When dosed and paired well, fruit will not overwhelm the taste of chocolate and will bring a fine extra taste spot which is in harmony with chocolate. It is important to find a fruit source which will be impactful in taste whilst not too overpowering. Orange, coconut and strawberry are good candidates and belong to the top ten flavours of global new product launches in the last three years (Mintel 2021).
Texture. This is where, together with taste, fruit has much to offer. When used well and in the right condition, fruit pieces can bring exciting texture and pleasure to any chocolate offering. Think chewy, soft, or even combined with additional textural elements like crisped rice or puffed quinoa for contrast; or even a triple sensation like smooth chocolate melting off, chewy fruit and crunchy crisp.

What consumers want from chocolate with fruit
Taste and excitement. Almost all chocolate eaters consider taste to be the most important factor for chocolate. Consumer demand for more exciting flavours is inspiring chocolate launches with multi-sensory appeal and sophisticated concepts (Mintel 2021).
Taste, luxury and wellness. We call it the Chocolate Dilemma: the ambiguity of today's chocolate consumers and the challenge for manufacturers to address these three desires that don't seem so compatible at first. Consumers are committed to health and wellness, while also craving premium chocolate and great taste. It's an exercise in grand-écart, but finding the right balance is possible.
When it comes to fruit in chocolate, consumers are looking for the healthy connotation and the luxurious little extra something. Chocolate is also taking position as a health food, which offers opportunities to bring in the goodness for fruit and even added functional ingredients. Read more about the Chocolate Dilemma here.
Smartphone-proof. Many consumers snack while handling their smartphone. 'Clean eating' literally becomes an important factor in new product development. Many fruit fillings are delicious but simply not smudge proof. Fun bite size chocolates or chocolate tablets – whether fine or chunky – with exciting fruit inclusions can create clean and happy chocolate moments. Read more about chocolate & texture here.
Vegan. As more consumers are embracing plant-based diets and some need to follow dairy-restricted diets, vegan chocolate has gone from margin to mainstream (Mintel Blog). Fruit fillings are easily available in vegan options for still more complementary pairings.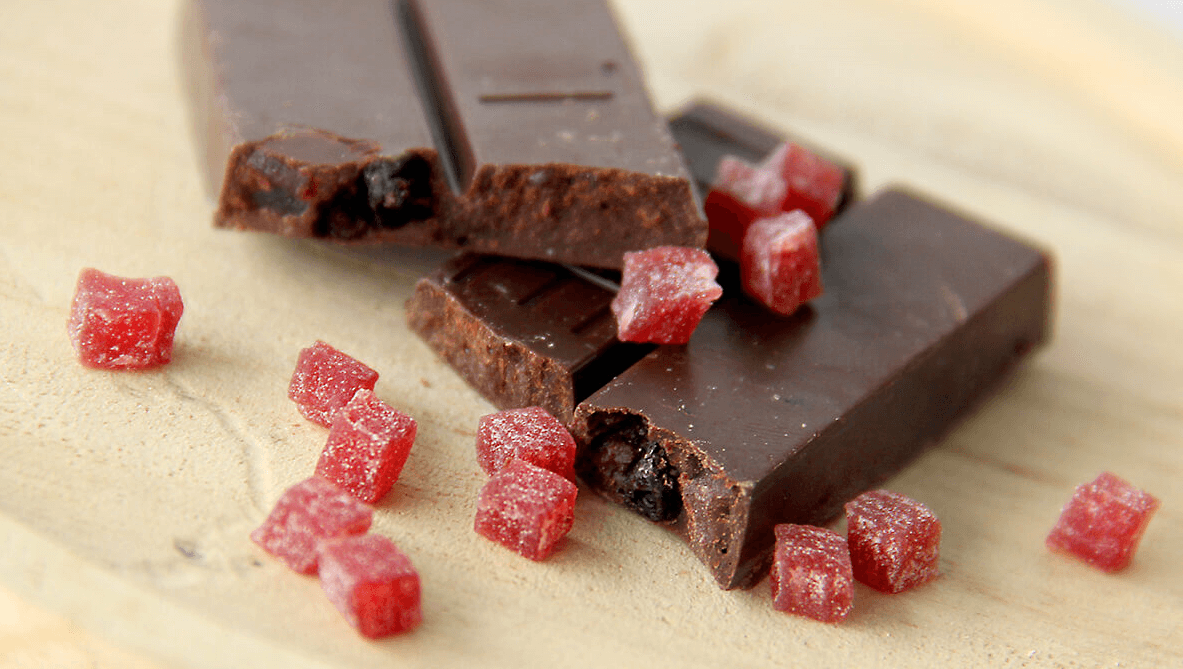 Which types of fillings are compatible with chocolate?
Many kinds of fillings are used in chocolate products - creams, liquorices, fondants, jellies, and dried fruits or fruit inclusions can all be incorporated into the chocolate mass. The fruits can be crystallized, covered by chocolate, and used as jellies or as creamy fillings. (Researchgate)
Five difficulties manufacturers face when combining chocolate and fruit
Size, processability, consistency, safety and moisture migration present critical challenges which compromise successful product development. Luckily, inclusions can offer solutions which clear those hurdles and deliver consumer-preferred experiences.
How fruit inclusions help to overcome the technical difficulties of chocolate with fruit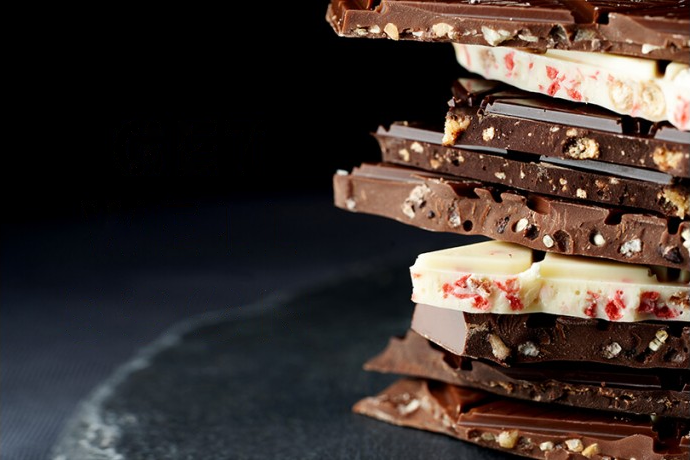 Image credit: Awfully Chocolate
Inclusions are creative specialty ingredients that can be 'included' in a finished food product. They can provide great taste, appealing texture and inspiring visual appearance.
1. Size

Common problems with fruit ingredient size include:

Irregular size: ingredients like dried fruits or raisins are often irregular in size, which can be difficult to work with.
Impact of ingredient size on dosage: fruit is difficult to get into easy sizes for even distribution in the production process. This can create risks of blocking machinery or uneven spreading in the application.
How inclusions can solve problems with fruit ingredient size:
Even size for easy dosage
Fruit inclusions come in different formats and sizes starting from 3mm up to 30 mm. Whether you want a natural looking flake, a dice, rectangle, tablet or string: inclusions come in a consistent size, making it easy to control dosage and spreading in the production process.

2. Processability

Common problems with processability of fruit ingredients include:

Intense production process: fruits are delicate and not every fruit ingredient

can

withstand the steps in an intense production process, like mixing or baking.
Stickiness: many fruit ingredients are sticky and require extra handling, which makes them difficult to work with in production at scale.
Brittleness: some fruit ingredients may be free flowing but also brittle, resulting in an unpleasant texture in the application.
How inclusions can solve problems with processability of fruit ingredients:
Easy processability


Constant, even in intense production process: with formulas adapted to the desired end use, fruit inclusions can withstand an intense production process, like mixing or baking.
Free flowing:

a fine layer of dusting ensures that fruit inclusions stay free flowing, making large scale production easy to control, while keeping the chocolate at its best.
3. Consistency

Common problems with consistency of fruit ingredients include:



Taste balance: as taste is the major trigger for chocolate consumers, this is the most important parameter to control in production. When working with fruit ingredients, make sure the taste is not too

intense or overwhelming.

Colour: make sure to check the colour stability of fruit ingredients in the chocolate product.
Line set-up for other flavour variants: be mindful that switching the production line from one fruit flavour variant to another can be time consuming and can involve several checks for parameters.
Temperature : chocolate reacts to all changes in temperature. Therefore, the fewer temperature shocks brought into a chocolate factory, the better. Sometimes IQF (frozen) fruit is used, which can create a problem in a temperature sensitive environment like a chocolate factory.
How inclusions can solve problems with processability of fruit ingredients:
The right taste balance: Whether you look for more intense, or more subtle taste, there is always a tailor-made inclusion available to match your signature chocolate.
Consistent Colour: fruit inclusions are cut out of a large fruit carpet, which has a natural looking and consistent colour.
Easy line extensions: a changeover from one fruit flavour to another is easy with fruit inclusions: an apple inclusion will perform in exactly the same way as an orange inclusion, which makes frequent changes for production of smaller batches (e.g., limited editions) much easier.
Ambient temperature: ambient fruit inclusions are easy to store and avoid temperature shocks in the sensitive chocolate production environment.
4. Safety
Safety checkpoints for ingredients for chocolate manufacturers include:
water activity (aW)
shelf life guarantee
allergen-free
contaminants-free
How inclusions can solve safety problems with fruit ingredients:
very low water activity (aW 0.3- 0.6)
long shelf life (up to 18 months)
allergen-free
contaminants-free

5. Moisture migration
Why most fruit ingredients are difficult to work with in terms of moisture:
Fruit is naturally rich in moisture/juice

.

For example, combining chocolate with fruit creates the risk of leakage: the fruit filling might leak through the chocolate, causing sticky packaging or smudged, non-attractive chocolate - not what a consumer wants.

How inclusions can solve moisture challenges with fruit ingredients:
Moisture control. With a water activity between 0.3 and 0.6, fruit inclusions are a safe and controllable way to bring rich fruit flavours in a sensitive product like chocolate.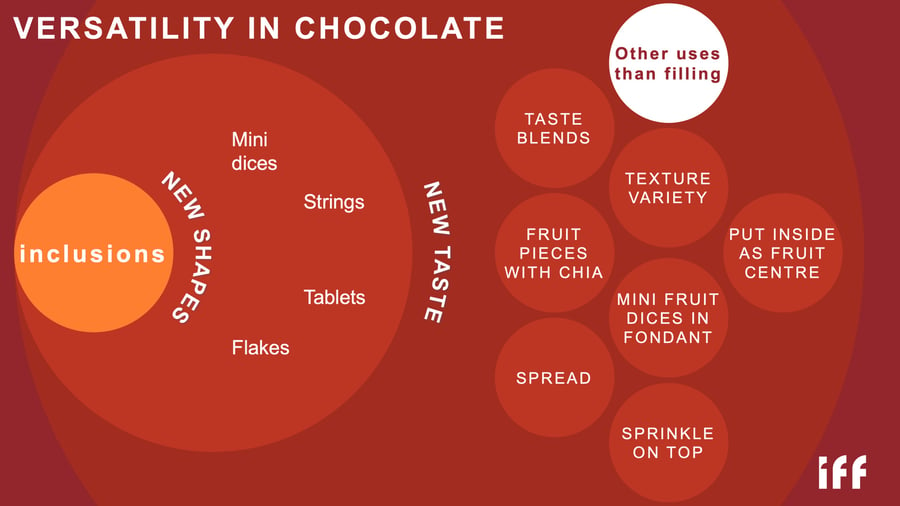 Looking for more inspiration for chocolate?
In a fast-changing market, we help you to find winning combinations for delightful on-trend chocolate products.
Or get inspired by destinations around the world.