How can chocolate brands come up to the ambiguous expectations of today's consumer? While chocolate remains a mood food first, the rising consumer awareness around health & well-being is creating a dilemma for the category. Is it possible to combine the craving for indulgence with the need for health while maintaining great taste? We did some research and spoke with Gwynnie Hagen, our Category Manager Chocolate & Confectionery, about the ambiguous consumer, the premiumisation of the market and creative possibilities for chocolate brands to innovate.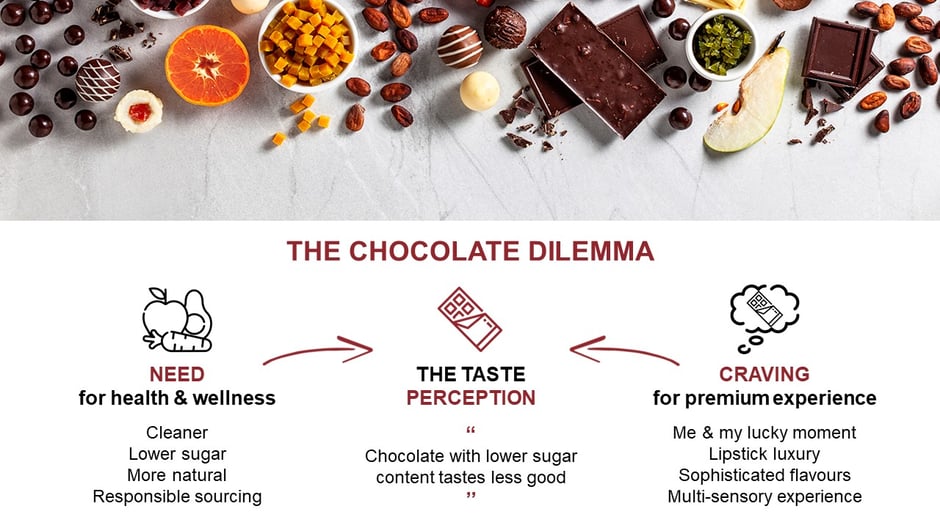 Ambiguous consumer expectations
Fragmentation of consumer beliefs and behaviors is a key factor for the coming three to five years, says Julian Mellentin, Food Consultant at New Nutrition Business. This means that one-size-fits-all products are unlikely to become the next blockbuster, and this creates opportunities for niches. Companies will have to measure a product's success by a smaller sales number than in the past.

Fragmented consumer beliefs can have an impact on the way chocolate and confectionery brands handle sugar reduction. This should be done carefully, says Gwynnie, as the consumer is of two minds: committed to reduce sugar intake and at the same time not willing to give in on taste. This places manufacturers in a dual battle: developing products with the perfect taste, while avoiding the negative connotation linked to the taste of reduced sugar products in the sweeter aisle.
Premiumisation and growth in tablets & wrapped chocolates
Activity in chocolate blocks continues to grow, representing 45% of the European launches in 2018, while wrapped chocolates showed fastest growth in launch numbers between 2014 and 2018 (Innova). The premiumisation of the chocolate market is clear by a number of factors:
The growing use of dark chocolate, which increased its penetration from 25% to 35% of launches between 2014 and 2018, according to Innova
Chocolate made from the entire cacao bean
Creations with ruby chocolate
Luxury handcrafted versions of chocolate, like KitKat Chocolatory
Classics re-designed to more sophisticated flavors, e.g. raspberry-rose
Influences from desserts and the beverage industry are translated into lovely concepts such as like caramel latte, apricot-rosemary, strawberry-pink pepper, coffee pumpkin spice
Chocolate with more 'grown up' flavor profiles is gaining traction. 27% of chocolate confectionery users would be interested in adult-focused flavors (rising to 31% among 35-44 year-olds)
Spicy and savoury notes like pepper are introduced in chocolate
Emma & her secret chocolate stash
Chocolate is primarily still about pleasure first. The consumer is craving for that little moment of pleasure and works with an internal credit – debit system, explains Gwynnie: enough healthy food justifies treating oneself to the ultimate chocolate every now and then. Let's take the example of Emma, our fictitious perfect chocolate consumer. Emma is 32 years old, she is a Millennial mom and the perfect premium chocolate consumer. She goes to the gym on a weekly basis and she pays attention to a healthy diet. Like many women, Emma has a secret chocolate stash, where she hides her chocolate for her little me-moments. She would rather eat 1 piece of chocolate that makes her perfectly happy than two or three pseudo-healthy pieces that don't taste so good.

The example of Emma shows:
How people are hooked to mood food. According to Mintel, as many as 44% of UK confectionery eaters purchase sweets for a mood boost, highlighting how strongly consumers connect confectionery with emotions. (Mintel, A Year of Innovation in Sugar & Gum Confectionery)
How lipstick luxury works: women buy a bit of affordable luxury as a reward. Storytelling is very important to reach people like Emma. Just think about how a simple strawberry can easily turn into dreams of summer delight and laughter when mentally linked to a strawberry & whipped cream concept for a luxury chocolate bar
Untapped potential: exciting chocolates with reduced sugar
Emma's story shows that the opportunity is in premium wrapped chocolates with exciting flavor and texture, to create her perfect mini-chocolate-moment. Because Emma also cares about her health, food brands need to look at new ways to reduce sugar without losing focus on the great taste of Emma's chocolate moment.
If the confectionery buyer intent is also valid for the chocolate buyer, there is a gap between what consumers want and what brands offer. Mintel figures show that 23% of UK confectionery buyers claim that they now seek out sweets which have reduced sugar content (or are sugar-free) over standard ones. However, Mintel figures from 2015 until 2019 show a relatively low level of NPD level in reduced sugar confectionery.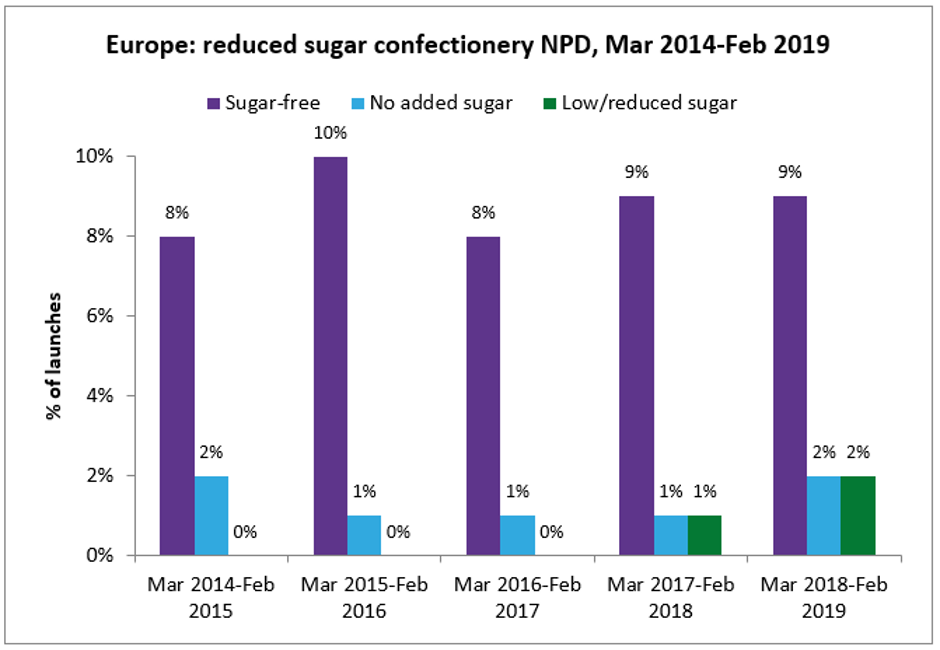 In the search for sugar reduction, we see savory and spicy notes coming like cherry-chili, masala, red curry. These will immediately put the consumer in a non-sweet mindset from the initial purchase onwards, says Category Manager Gwynnie Hagen.
There is also a possibility for functional ingredients in chocolate, because they may reduce the guilty feelings related to eating chocolate. Functional chocolate or confectionery however should always keep the focus on taste and indulgence. Although consumers say that they are looking for healthier options, in practice they won't buy them if they don't offer the same experience. What people say, is not always what they do. The holy grail for chocolate manufacturers is to provide the same exciting experience as combined with a health benefit.
Did you know...