What if we could reward ourselves with a little 'me time' moment, and believe we are making a more positive impact on our mind, body and planet?

Having endured restricted movements and disrupted lifestyles over the past couple of years, consumers are eager to break out of their confines and explore, play and embrace amplified experiences, and celebrate the joys of life post-lockdown.

A newfound hedonism drives the pursuit of maximum pleasure from multi-sensory experiences, including food and beverage consumption. The hunger for new experiences is also driving consumers toward indulgent products that stimulate their senses, beyond taste and smell. Consumers are willing to pay a premium for interactive and elevated indulgences in these uncertain times.

The quest for delivering memorable 'total sensory' experiences is particularly seen in the chocolate confectionery market as brands are experimenting with unusual flavors, audacious ingredients and textures, alternative formats, and usage occasions as a way to channel more alternative or unconventional moments of peace and calm, or pleasure and escapism. Chocolate already has a strong position as a "feel good" category, and there is room to grow its significance – above and beyond the physical taste experience. Read on to explore some opportunities we have discovered.
MIND POSITIVE – sensorial explorations to re-awaken the senses
With consumers eagerly in search of uplifting, mood-enhancing pleasurable experiences that allow them to escape today's stresses, chocolate brands have a whole world of opportunities to explore. Creativity and playfulness allow for the development of unexpected indulgent products, and brands should act as the benchmark for adjacent categories and blur the lines between senses for innovative launches. UK chocolate brand CRAVE has launched a fun, breakfast-inspired vegan chocolate bar with fudge, raisins, honeycomb, cornflakes and biscuit crumbs, saying it contains 'everything but the kitchen sink'.
Brands can position their products at the center of an overall occasion, be it a moment of peace and calm, or a time to share and connect with others. New Zealand chocolate brand, Whittaker's, has just brought to market limited edition Relax & Refresh chocolate blocks, which feature botanical extracts infused into Whittaker's smooth milk chocolate. Refresh is infused with rejuvenating peppermint and Lavender; while Relax uses the calming flavors of Passionfruit and Chamomile. A relaxing Spotify playlist accompanies the consumption experience to transport you to a tranquil place.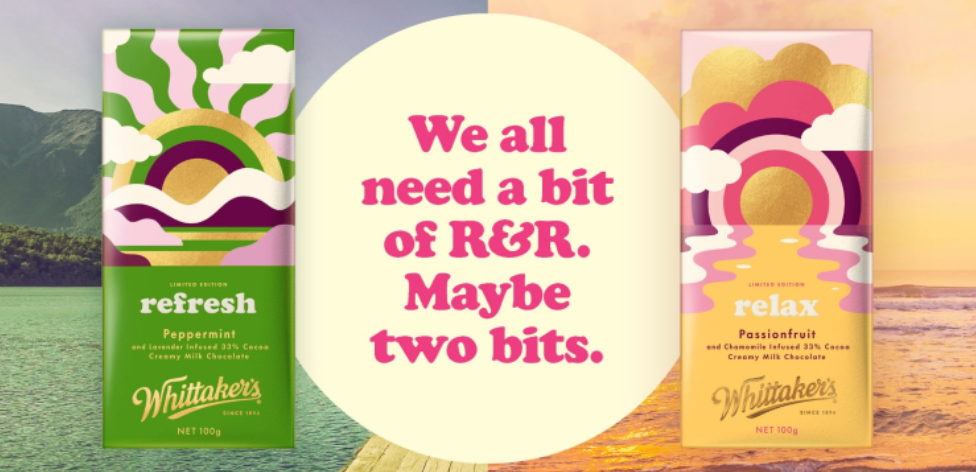 Image credit: Whittakers
Expanding into new categories and collaborating with other brands on an unexpected new product can offer a different way to enjoy an item and appeal to consumers' sense of adventure and curiosity. Nestle KitKat paired with Belgian biscuit manufacturer Lotus Biscoff to create the KitKat Chunky Lotus Biscoff Milk Chocolate Bar. We expect to see hybrid innovation like this continue to trend due to the power of familiarity and limitless potential of new collaborations, which appeal to young consumers who are a salient audience for the novel and unexpected.

Creative innovation with exciting and novel flavors and ingredient pairings, contrasting textures and bold mouth-feel sensations provide a point-of-differentiation on-shelf and create social media share-worthy appeal. More importantly, it will leave the consumer feeling one piece simply isn't enough!
BODY POSITIVE – achieving balance as the keystone to a healthy life
Whilst the war still rages over sugar, and consumer sentiment about the sugar content in confectionery varies from market to market, brands that are honest and transparent in their offerings, will help the pandemic-weary consumer make choices around balance and treats.

With 41% of consumers in the UK agreeing that the range of low/sugar-free sweets is too limited, chocolate brands have an opportunity to make these products more exciting by utilizing better-for-you naturally sweet ingredients such as fruit – a sophisticated and timeless match made in heaven!
We are also seeing innovation centering around bridging the health/indulgence divide, as brands navigate the ongoing challenge of consumer desire for healthier food whilst not giving up their love of indulgence. Launches with functional ingredients such as nutraceuticals to support various states of health (sleep, stress, PMS, focus, anxiety) are starting to appear, but leading the better-for-you pack is "chocolate + protein" snacks, thanks to protein-forward diets providing a platform for innovation in the chocolate category. See Go! Choko 45% Cacao Dark Chocolate Protein Pearls with 13g of protein per pack.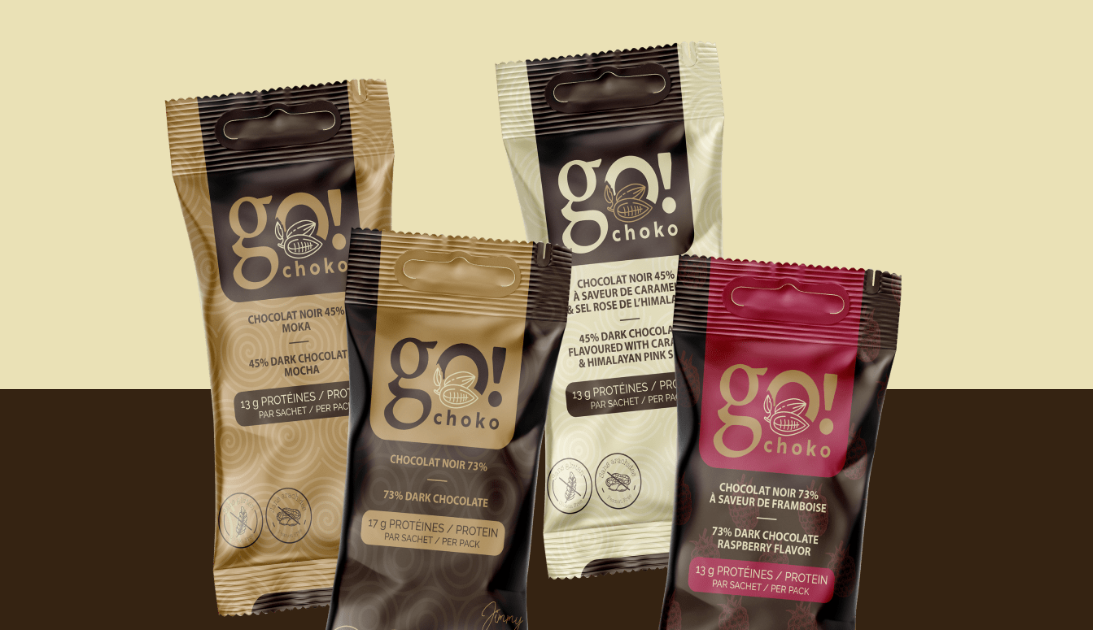 Image credit: Gochoko.com
PLANET POSITIVE – doing more good for a better and fairer world
With the rise of conscious consumerism, chocolate lovers are increasingly seeking assurance that they can positively affect the ethics of the chocolate industry simply by choosing to invest in brands that put people and the planet first, expecting brands to communicate and demonstrate their ethical and sustainable commitments to people and the environment.

UK chocolate start-up FATSO launched on-shelf March this year, with the company driven by the principle that 'MORE matters'. The company has a passion 'to transform the Colombian people's lives and livelihoods for the better, to protect and enhance the world's environment, and make delicious chocolate along the way.' With chocolate bars such as "Morn'n Glory" featuring 60% cocoa dark chocolate, cornflakes, toast & orange marmalade, paying homage to an English breakfast, FATSO aims to exceed consumer expectations for unique, high quality, ethical chocolate.
Driven by increased awareness of the disastrous consequences of the climate crisis, consumers and brands alike are embracing the low waste revolution by utilizing upcycled ingredients to curb waste and loss while innovating with taste and texture.
From specialized niche to mainstream, launches of vegan chocolate have increased by 4.1% (Feb 21 – Jan 22) as consumers move away from animal-derived ingredients. Chocolate manufacturers can remove barriers to consumer acceptance of vegan chocolate, broaden its appeal and drive interest by innovating with taste, texture and premium ingredients.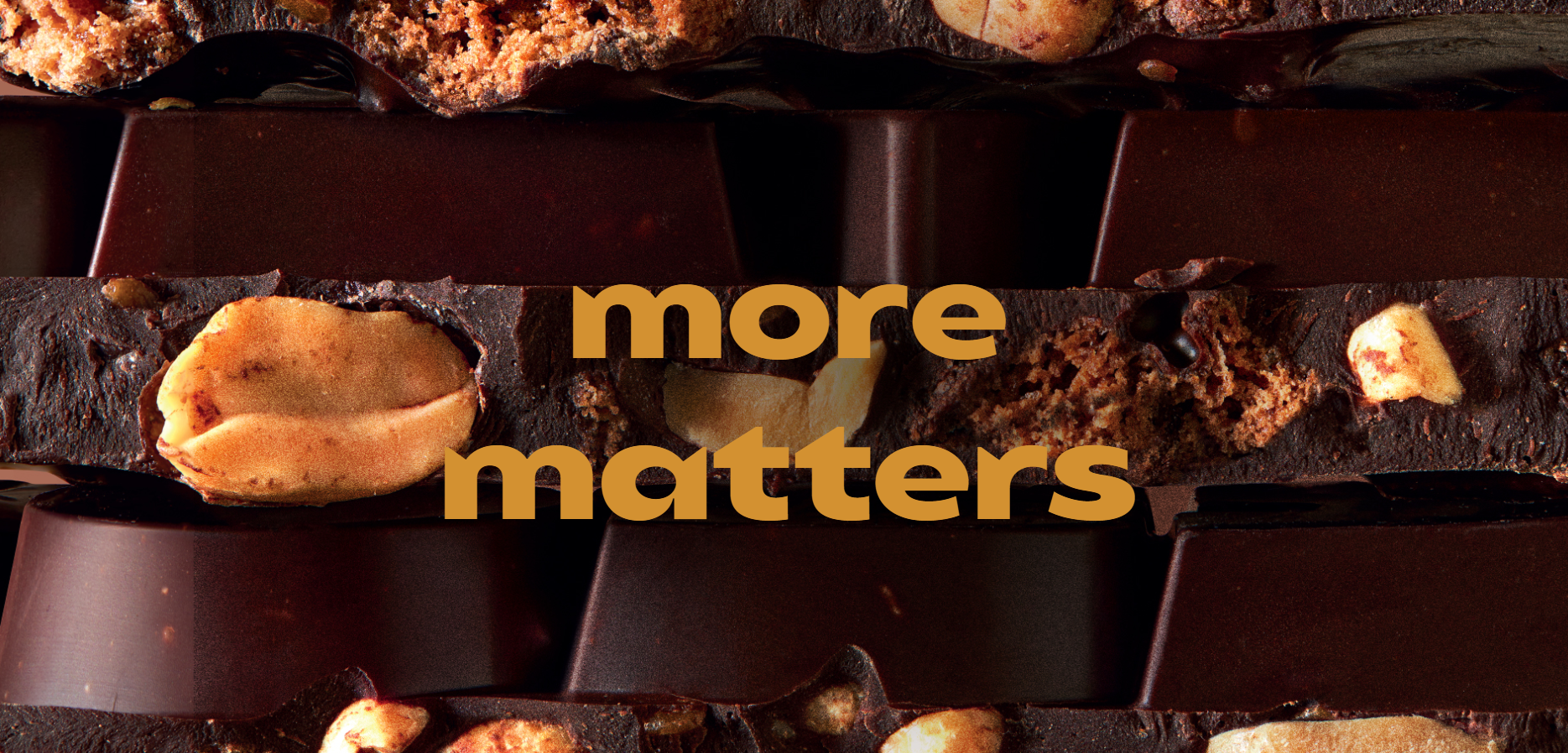 Image credit: Fatso Chocolate
Inspired to Innovate?
TAURA makes innovation easy in the better-for-you confectionery space with sustainably sourced and responsibly manufactured real fruit and vegetable solutions that are free from all the nasties, yet deliver the multi-sensorial experiences consumers crave from their confectionary purchase.


Sources:
Mintel's 2022 Global Consumer Trend Enjoyment Everywhere
Mintel's A year of innovation sugar confectionery 2022
MINTEL_Lightspeed survey of 1734 internet users (France, Germany, Italy, Poland, Spain) age 16+_May 2021
MINTEL_ The Future of Chocolate, Sugar & Gum Confectionery 2022