Sugar reduction and digestive health are 2 key trends driving product development, but did you know they are inherently linked? The combination of both trends is bringing an interesting evolution in healthier product development. Every time we talk to customers about the link between more fibre and less sugar, their interest is ignited. Can you explain the relationship between sugar reduction and fibre? It is a question we have seen popping up several times, so we dug into the topic and brought some insights together.
Why sugar reduction is the nr 1 concern
Limiting sugar was already the number one dietary concern for consumers prior to COVID-19, according to the International Food Information Council's 2019 Food & Health Survey. The survey also found that respondents considered sugar the most likely ingredient to contribute to weight gain. As a result, many manufacturers are looking for alternatives that will not increase the sugar content, whilst avoiding artificial sweeteners.

The pandemic has prompted people to be more conscious about their diets, in order to avoid developing diet-related diseases like obesity and diabetes, which have been associated with adverse COVID-19 outcomes. Around the globe, consumers show a strong motivation to reduce their sugar intake. In the US, 55% of adults would like to eat less sugar in their diet. In Chile, 37% of adults agree that low sugar is a top factor when shopping for food. In China 58% of adults aged 18-59 think the need to reduce their sugar intake (Mintel Trends and Innovation in Sugar Reduction, December 2021)..

The strong motivation of consumers to reduce their sugar intake is opening doors for innovative alternatives for sugar reduction.
New sugar alternatives
Next to natural sweeteners like Stevia and allulose, unexpected fibre ingredients are getting more attention. Mintel sees acacia gum and stevia working together as new fibre ingredients and cocoa pulp is also being introduced as a sustainable new ingredient to add sweetness and replace refined sugar in chocolate and confectionery. Besides adding sweetness, the cacao pulp also brings value by recycling a side product that would otherwise go to waste (Mintel, The Future of Ingredients 2020).
Early 2020 Mondelez announced its patent on soluble corn fibre for reduced sugar chocolate. Soluble corn fibre can reduce sugar content in chocolate, while retaining similar levels of sweetness and leaving no aftertaste (Ingredients Network, 20 January 2020). Soluble corn fibre is an attractive solution to reduce sugar, as a recent study demonstrated that people would prefer to limit their sugar intake instead of replacing it with artificial sweeteners (Fooddive, 16 January 2020).
By focussing on what is added instead of sugar, brands can give their product a transparent and positive image. Adding fruit ingredients for sweetness is gaining popularity too, as sugars from fruit are perceived to be naturally healthier and are therefore better accepted by consumers.
What's the link between sugar and fibre?
Fibre and sugar are both carbohydrates. It is possible to use fibre to replace some of the sugars in food products. The amount of fibre added to a product has an immediate effect on the amount of sugar. More fibre = less sugar. This has a positive effect on the nutriscore.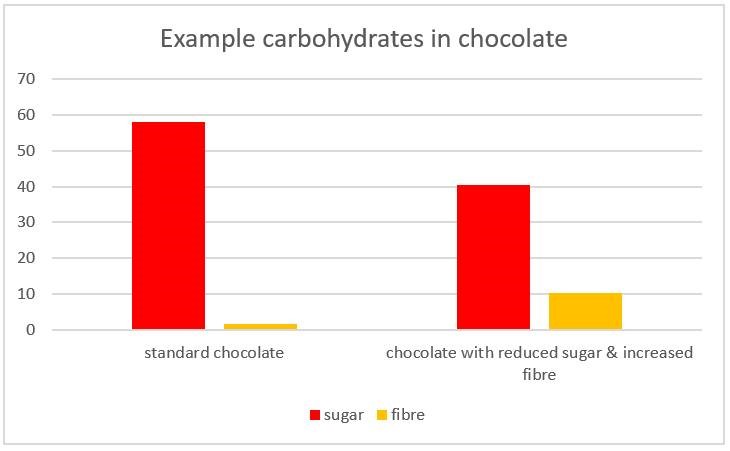 How this works in practice
In chocolate
Mondelez new patented sugar reduction ingredient for chocolate, soluble corn fibre allows to reduce sugar in chocolate by 30%, while the fibre count is increasing from 1,7g/100g to 10,2 g per 100g. They replaced 19,27% of the sugar by soluble corn fibre. (Source: Patentscope).
Strauss has been working on a similar effort, reducing the sugar levels in its milk chocolate by 30% by replacing sugar by 17% dietary fibres and 5% tigernut flour.
In cookies
Our R&D team has conducted a test with several recipes for sugar reduced cookies and we have found that 30% of the sugar can be replaced by dietary fibre. (Source: Taura Sweet Spots Webinar)
In fruit snacks
Let's take a fruit snack as an example. Our R&D team recently developed JusFruit Fibre+, a high-fibre fruit ingredient that allows to reduce sugar content up to 30%. Here is how it works. We partly replaced the fruit juice in our pieces with soluble corn fibre, offering a double benefit, explains Els Vandenberghe, R&D Manager EMEA at Taura. "The use of fibres instead of juice decreases the amount of mono- and disaccharides naturally present in our standard fruit ingredients. This way the sugar content of our pieces can be decreased by up to 30%, whilst maintaining a nice taste and texture. Besides the benefits of a lower sugar content, the pieces produced this way also contain very high amounts of diet fibre. "
2-digit growth for fibre-rich snacks
Choosing fibre as a sugar replacement is a double win: first, adding more fibre means it is possible to reduce sugar and second, the sales perspectives look promising. If we look at Mintel figures between 2016 and 2018, we see a growth of 12,8% per year for snacks with a high / added fibre claim in Europe. The rise in high-fibre product launches makes perfect sense, since digestive health remains a key trend, the nr 1 trend for 2020 according to New Nutrition Business. Even people who eat 5 to 8 portions of fresh fruit and vegetables per day are not achieving the daily recommended fibre intake level of 25-30g per day. This reality creates opportunities for fibre rich snacks: these are likely to become a regular addition to people's daily diet.
Take-aways
The combination of the sugar reduction & digestive health trend is bringing an interesting evolution in healthier product development.
Replacing (part of) the sugar in recipes by fibre can allow brands to help consumers with a healthier diet.
Recent innovations by Mondelez, Strauss and Taura demonstrate the possibility to reduce sugar by 30% in chocolate and in cookies. Natural alternatives for sugar, such as soluble corn fibre and fruit ingredients are an attractive solution to reduce sugar and to retain a sweet taste.
Check out our Whitepaper about fibre-rich snacks: