A Gin Mare with a Mediterranean tonic and a sprig of rosemary: sets the scene for a nice evening with friends, right? Why is it that we are attracted to botanicals? In this blogpost, we'll try to understand the reasons why botanicals are attractive for consumers, we'll zoom in on the beverage sector as "botanicals innovation hub" and – last but not least – our R&D Technologist Sanne will share some tips & tricks for people who want to develop snack products with botanicals: which combinations work well with fruit, and which things to be careful about?
What are botanicals?
The word botanical originates from Medieval Latin botanicus, from Greek botanikos relating to plants. A botanical is any substance derived from parts of a plant and used in making drugs or pesticides or in flavouring foodstuffs (Collins Dictionary). Some also can be classified as herbs, plants or flowers used for flavor, fragrance, or medicinal qualities, such as rose, parsley, rosemary, sage, and thyme. Others fall under the classification of spices, piquant aromatic plant materials, usually of tropical origin, such as cinnamon, nutmeg, and pepper (FoodProcessing).
Fresh and dried herbs and spices bring flavour in the kitchen and a few years ago botanicals also emerged as the secret and defining ingredient in premium gins. As true liquid chefs, mixologists have surprised their guests with combinations of spirits, fruit juices, mixers and – of course – the right botanicals. The beverage sector has seen a boom in innovative limited edition drinks with great flavour combinations, that can also inspire snack development. Classy pairings include raspberry rose, watermelon hibiscus, strawberry cherry blossom or blueberry lavender.
But first, let's dive a bit deeper to understand why consumers are attracted by botanicals and which preferences exist among generations.
Why consumers are attracted by botanicals
New food experiences
Holistic health
Food-as-Medicine
Clean label naturalness
Age redefined


1. New food experiences
Consumers are on a big, broad journey of discovery, moving out of their comfort zones to explore new food experiences (Novotaste). Curious consumers are interested in holistic and alternative wellness activities, rituals and ingredients.
2. Holistic health
As consumers embrace a thrive-rather-than survive approach to life, they are more interested in the factors influencing their whole wellbeing. Nutrition, exercise, sleep, spiritual and mental wellbeing are seen as a whole entity: one's health. This holistic view on their health motivates consumers to move beyond physical health and to look for products that are also good for the mind and the soul. A great example of how this works are Nude chocolate bars:
For the MIND: Blueberry & hibiscus for focus
For the BODY: strawberry & rose petals for healing & vitality
For the SOUL: lavender & raspberries for balance
3. Food-as-Medicine
The medicinal or therapeutic effect of botanical ingredients drives their appeal in 'food as medicine' concepts. Examples include kola nuts for natural energy, calamansi for detoxification and weight management, and black tea for attention. As healthy ingredients, botanicals contribute to a net positive perception of food products: by putting emphasis on ingredients that add value, manufacturers create a more positive perception of their product, instead of focussing on the negative ingredients, that are removed.

In these times of Corona Crisis, food-as-medicine is more relevant than ever. Nutrition Business Journal reports that according to SPINS, sales in categories like immunity and respiratory health were up a third in the natural retail channel in the US in February, a month that closed just as the first U.S. cases of the virus were creeping into the headlines. One executive at a brand with a promising immunity ingredient told us sales at his company shot up 28 percent last month. According to Hartman, industry analysts predict that the global functional food and beverage market size will reach $275 billion by 2025.

4. Clean label & naturalness
The clean label trend is encouraging brands to formulate using natural flavours, and even 'no added flavours', creating space for botanical ingredients.

Consumers believe in the power of nature. They believe that nature provides more sustainable solutions for improving health. This results in a revival of ancient healing practices – including botanicals – and a growing preference for plant-based products.

Mintel's 2018 Report botanical ingredients for health & functionality shows that 77% of US consumers who use vitamins and supplements agree that fruit & veggie ingredients are more effective and that 72% of US consumers would be interested in sports nutrition with health boosting herbs & spices.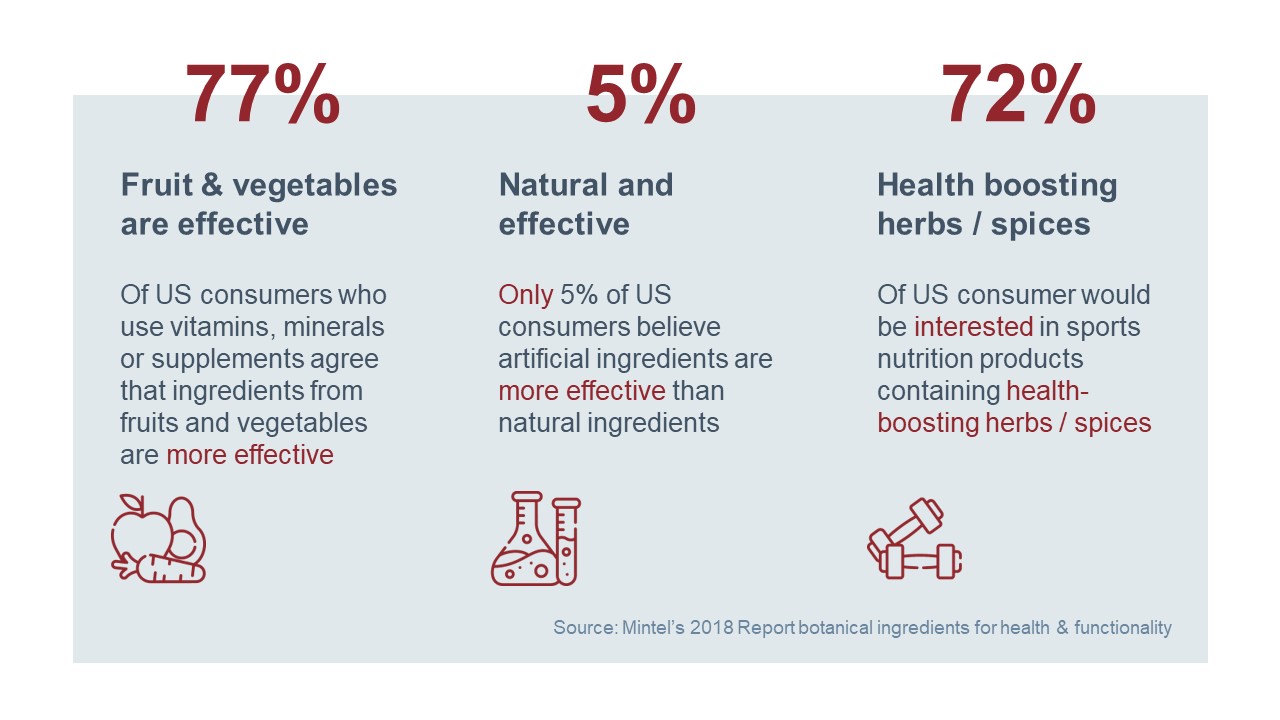 5. Age redefined
Consumers across all ages are health-conscious and want to preserve their good health for the future, highlighting an opportunity for botanicals to step into the 'healthy ageing throughout life' space. Populations across the globe are living longer, which may increase demand for products that prevent, treat and cure the numerous health conditions often linked with old age. We are starting to see food & beauty crossovers for positive ageing, like chocolate with health & beauty boosting ingredients.
Which botanicals for which generations?
Each generation views the world with a different perspective. For example, for older consumers, lavender may be reminiscent of the scent in grandmom's bathroom or a summer holiday, for younger consumers, reintroducing lavender as a flavour in food like ice cream or candy is surprising. Datassential shows the "sweetspot": shared favourite herbs & spices between generations. Rosemary, basil and seasoned salts are some flavours that appeal to all generation. You can find out more on Novotaste.
Bringing beverage inspiration to snack food
Beverage sector offers a wealth of inspiration for snack producers to drive innovation, with drinks such as "iced tea with honey and rose" or "vanilla lavender latte". Also in demand are parings such as raspberry rose, watermelon hibiscus, strawberry cherry blossom, blueberry lavender or blackberry elderberry all of which make new taste experiences possible (*).

Relaxation is one of consumers' top health concerns in 2020, and the RTD tea sector is a forerunner in innovation to address this need. Mintel is seeing more relaxation-positioned drinks come to market. The same type of innovation is happening in the juice market. A good example is Natalie's Orchid Island Cold-Pressed Relax Juice Beverage. This is a plant-based and clean-label juice drink, described as a soothing blend of chamomile and passion flower, combined with the sweetness of pineapples and oranges, "which may calm and relax the soul" (*). These products are really clever: they show how brands can explore the evening occasion with innovations gearing towards relaxation.

(*) Source: Mintel: a year of innovation in juice and beverage concentrates 2020)
Tips & Tricks for snack product development with botanicals
Are you thinking of innovating with botanicals? Then these tips from our R&D Technologist Sanne might be of help: which combinations work well with fruit? And which things to be careful about?
Points to consider:
Matching the right botanicals with the right fruits or vegetables
Balancing quantities is important. When working with botanicals & fruit, we noticed that adding too much of a botanical flavour can result in a soapy taste. If you combine with other flavours, the botanical should still sufficiently stand out in the flavour palate.
Type of end product: the type of end product has an impact. We have noticed that some combinations of botanicals with other ingredients can result in a soap taste, for example apricot rosemary fruit pieces work well as a snack but give a soapy taste when combined with white chocolate.
Perfect pairings with fruit & botanicals
Our R&D team has done some developments with fruit & botanicals and has found that the following combinations work well:
Apricot / rosemary
Lemon carrot ginger
Strawberry / basil
Strawberry hibiscus
Blueberry / Blackcurrant lavender
Raspberry rose
Orange cardamom and cinnamon
Raspberry violet
Apple elderflower
Conclusion
Consumers are attracted to botanicals for a variety of reasons. We have identified 5 main drivers for thriving development with botanicals: craving for new food experiences, holistic health, food-as-medicine, naturalness and healthy ageing. The beverage sector is a great innovation hub for snack brands to get inspired, and classy flavour pairings include raspberry rose, watermelon hibiscus, and blueberry lavender. If you plan to work on new snack developments with botanicals, keep these 3 tips in mind: match the right botanical with the right fruit, balance the quantities and test test test: a combination that works with dark chocolate, might taste like soap with white chocolate.