COVID-19 context creates opportunities at the intersection of food supplements and snacks
The holistic approach of consumers towards their health is shaping a whole new role for food. This trend is accelerating during the COVID-19 pandemic. Health today is the personalised combination of parameters such as sufficient physical activity, mental and emotional well-being and energy level. The demand for immunity-boosting products has risen sharply. For the year ended March 22, 2020, a recent article in Nutraceuticals World reports that U.S. total mass multi-outlet and convenience store dollar sales of immunity products jumped 199%.
People's health concerns in the post-COVID-19 New Normal will include even more conscious food choices, and many are experimenting with personalised nutrition, including food supplements. There is increasing recognition among consumers, researchers and healthcare professionals that one-size-fits-all nutritional recommendations for health promotion are inefficient and often ineffective, explains Ahmed El-Sohemy, Founder of Nutrigenomix, a University of Toronto start-up biotech company.
New opportunities are rising where people's holistic approach to health meets fast-paced lifestyles. Snacks are moving in the direction of food supplements, by adding extra benefits, such as fibre or protein. On the other end of the spectrum, food supplements are moving in the direction of food, by offering more pleasant alternatives than pills.
The opportunities are somewhere in the middle, because consumers are simply looking for snacks and food supplements that are better for them.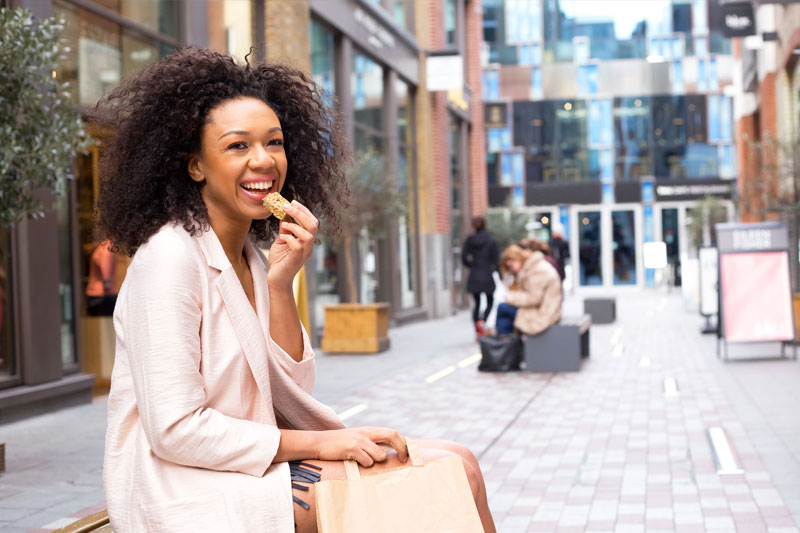 Better-for-you food in 2020
To create better-for-you food that addresses consumers' needs, it is crucial to understand the top requests that consumers have from health & wellness food. Let's have a look.
Stress reduction and relaxation
In a recent webinar about the Future of Health & Wellness, Hartmann explained the importance of stress reduction and energy. Before, weight management was the number 1 need in Health & Wellness. Now, this is taken over by anxiety and stress management, much higher than in 2013. People experience more stress, not only due to work-life balance, but society in general has become more stressful with a high speed of change. People don't go to the doctor for these day to day conditions - they look to food and nutrition.
Digestive health
Mintel research among consumers who tend not to buy snacks found that nearly 40% of them would be more likely to do so if they were fortified with probiotics or claimed digestive health benefits.
Cognitive health
Cognitive health – traditionally associated with the aging – presents a huge opportunity for Millennials and Gen X groups. These consumers are looking for ingredients that help them to enhance their existing lifestyle and stimulate focus and attention.
Fighting fatigue with food
Energy is key to combatting todays busy lifestyles. Every cell in the human body needs energy to perform normal body functions, and eating for energy is all about choosing the right foods at the right time. With consumers constantly on-the-go, nutritional bars have been a key winner in the snacking category, as most have natural energy coming from plant-based protein, and are made from clean label ingredients. As more 'Weekend Warriors" focus on proper nutrition for energy and recovery, there are further opportunities for sports fuel/performance nutrition foods.
The value and NPD opportunity in vitamin inclusions
Vitamin inclusions in food & beverage products are on the rise. Innova's Vitamin Research Report of July 2018 gives a good snapshot of the vitamin's inclusion market opportunities. The fastest growth is in plant-based waters (+63% 2017 vs 2016), and if you look at the food category , breakfast cookies and snack nuts & seeds are advanced as promising categories. Breakfast cookies with vitamins for energy and reduced fatigue. In the snacks nuts & seeds category, Innova noted +49% growth 2017 vr 2016.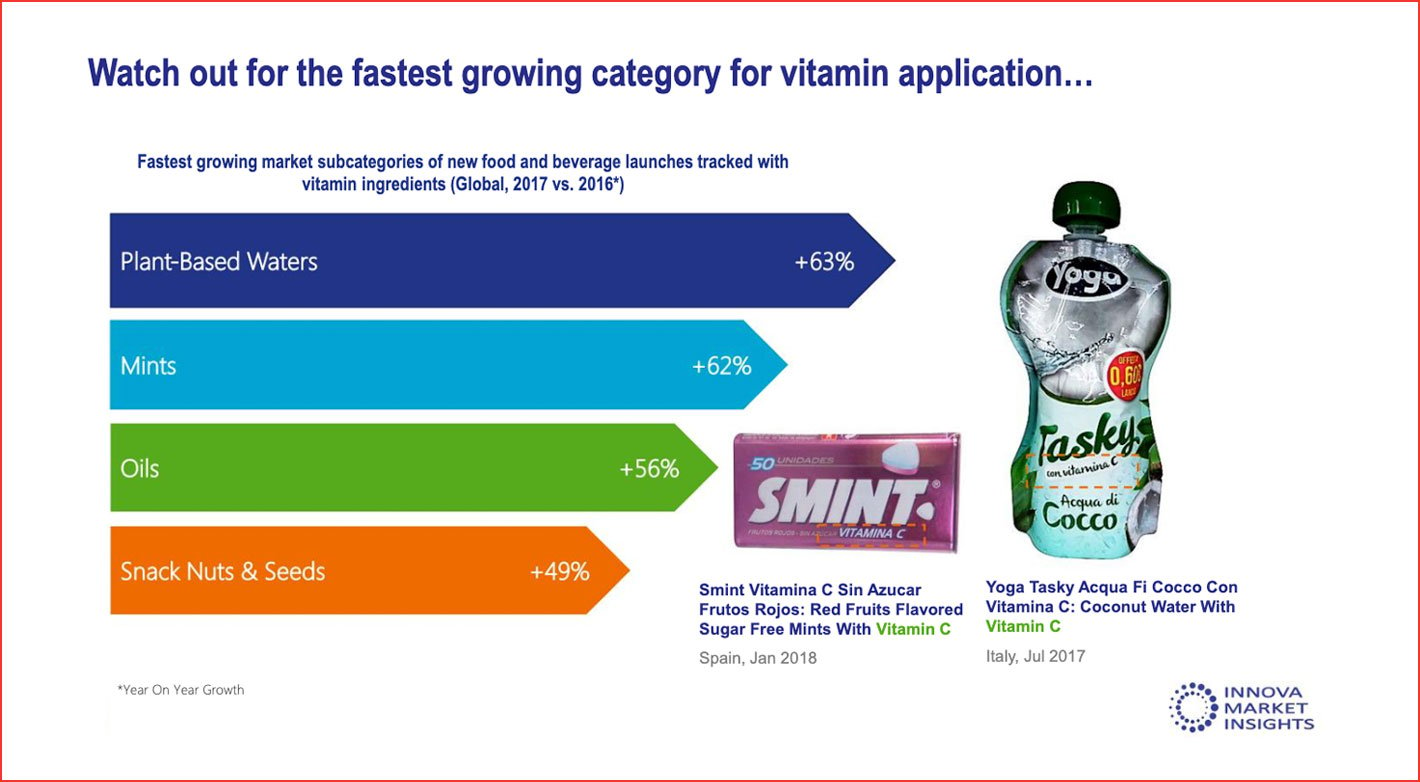 Source: Innova Marketing Insights
Vitamins in food (or food as vitamins) is becoming big business
More pleasant formats of food supplements are a novel growing category, as consumers seek tastier alternatives than pills. Analysts from Newhope found that gummy supplement sales doubled between 2014 and 2018, with non-pill format sales in the US now reaching 17 billion usd. We expect further strong growth in this category, as vitamin gummies are a perfect fit in the eating pattern of today's holistic healthy consumer.
The personalized nutrition and wellness retail market, which includes dietary supplements, nutraceuticals and functional foods, is rapidly expanding with estimates that it will reach US$50 billion by 2025, according to Nestlé Health Science (source: Nutrition Insight).
Fruit as a delivery system for active ingredients
Taura offers possibilites to include active ingredients in a pleasant fruit format.