What if your passion was your work? What if you were creative with food and you could turn that into your job? Well, the Taura R&D crew is dedicated to working on custom developments for customers, but next to that, the team also reserves time for playing around with new ideas, that can inspire new food products.

Charlotte is R&D Technologist at Taura and she has a passion for flavour. She dreamed about creating some real feminine flavours, which brought her to flowers. On a warm summer evening, browsing through the menu of the local coktail bar, Charlotte became inspired by the combinations of fruits, botanicals and flowers. A new project was born: she wanted to bring the beautiful flavour combinations of cocktails and mocktails into a fruit piece. Successful combinations in craft drinks were a perfect starting point for her flavour explorations.
It might seem easy, but it is an art to achieve the perfect balance between the fruit and flower flavours. You don't want to end up with a soap taste in your mouth. Also, you might want to avoid that the flowers to take over, yet you need the subtle flower notes to lift up the fruit flavours.
Winning combinations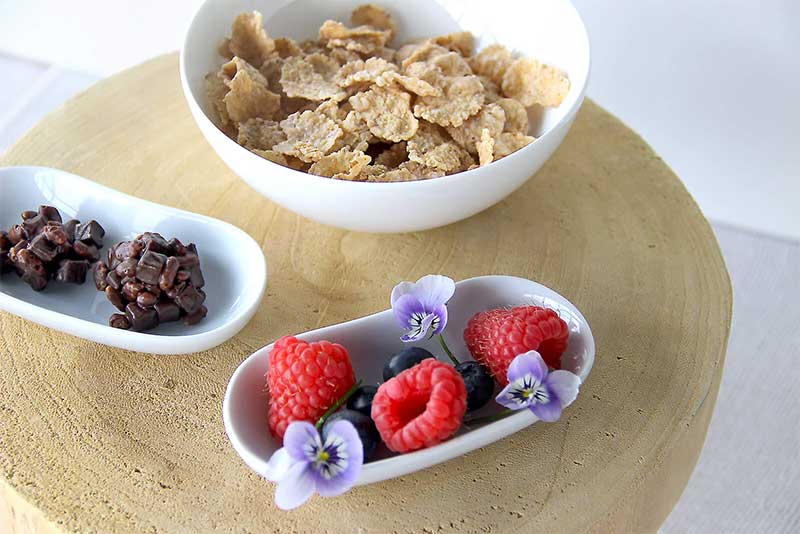 Unlike what you would think, the on-trend hibiscus turned out not to be a good fit with raspberry. With mango and passionfruit, the taste was lovely. Other winning combinations include:
raspberry & rose
raspberry & violet
blackcurrant & lavender
peach & elderflower
Thinking outside the box
Bringing food trends from one category to another is an easy step to innovate. With the mixology trend of the past years, consumers are used to adventurous drinks. What if you could bring this adventure to a healthy snack or even cereal? Charlotte worked the raspberry & rose fruit pieces in dark chocolate clusters: the perfect treat.
Get an overview of all possiblities we offer for nutritional bars & snacks in a downloadable brochure: