Don't you often feel that it is really hard to see the forest for the trees when it comes to sugar reduction? The options in this field are more than plenty and without doubt so are the pros and cons.

Whereas the war on sugar is increasingly bitter, sweet as a taste is a blessing and will always be sought after by consumers globally. It is in this center stage duality we see much innovation and creativity arising. It is a common understanding global companies commitment to sugar reduction (e.g. Nestlé) and government measures in the form of bans or sugar tax will push the industry into a less sugary future.

This is an unprecedented challenge as we - as consumers - keep the demand for new great tasting sweet and indulgent products high. Yet at the same time we look towards the same industry for help to battle the global tidal wave of obesity and diabetes 2.

The entire industry is giving its best to try and live up to the many expectations. In this blog we briefly sketch the different approaches we have seen so far in the market.

We see 3 different approaches, often combined.
Sugar reduction by use of alternatives, substitutes & sweeteners
Sugar reduction by reformulation
Sugar reduction by differentiation of taste, pack or label
Find out more about reformulating for less sugar in baked goods in this Webinar about Sweet Spots.
1. Sugar reduction by use of alternatives, substitutes & sweeteners
One of the currently most visible forms of sugar reduction is by replacing sugar entirely or partially by other sweet tasting substances.

These can be either artificial or natural sweeteners. We see a large increase in launches with non-caloric sweeteners especially in the beverage industry. These sweeteners can be artificial ones (e.g. sucralose, aspartame, acesulfame-K) or natural (eg. Stevia, cocoa fruit sugar or monk fruit. Another option is to go by low caloric sugars like xylitol, sorbitol or maltitol.

Whereas the natural sweeteners are gaining ground especially for the healthier positioned products, it is still the artificial sweeteners leading the pack as consumers are driven by taste and price. The natural sweeteners come with artificial sounding names which is confusing. At the same time both natural and artificial sweeteners might come with some hard to beat off-tastes. This is driving innovation to outstanding taste-masking and modulation to whole new levels.

At the same time, we see the consumers again being in bias on how to act. Consumers feel that all sugar reduction will automatically lead to an increase in the use of artificial ingredients. Same as we see some countries (eg. Mexico: source Mintel) considering a cautious approach when it comes to artificial sweeteners.

Another option in the search to get rid of the demonized refined sugar on the back of pack is to go for alternatives: think honey, agave syrup, fruit juice concentrates, raw cane sugar,… These however do not completely solve the issue of sugar content in a product simply because they may contain a few more nutrients than regular refined sugar. Fact is that they are still sugars and add to the calorie count but with a healthier image. Here too it is difficult for a consumer to see the forest from the trees as there is plenty of contradicting information present in the market.

The above translates to plenty of opportunities for new product developments but also stresses the importance of clear consumer communication.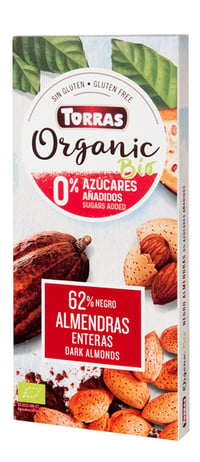 We see this communication taking place in product descriptors where the naturalness of the sweeteners is emphasized on the front of pack. Eg. "'Erythritol from organic corn production' as on Torras Organic Bio 62% Dark Chocolate with Almonds. The manufacturer uses erythritol, which is from organic corn production and is made from dextrose fermentation, a naturally occurring sugar present in corn grains (Colombia). (Source: Mintel).
Consumers often believe that reducing sugar means increasing artificial ingredients. This highlights the opportunity to build a natural image into reduced sugar products (Source: Mintel).



2. Sugar reduction by reformulation
Reformulation recipes to obtain sugar reduction must be the most difficult but perhaps most rewarding approach. Besides its sweet role sugar as a bulk ingredient has a significant effect on all properties of the end product and as such it is not easy to replace. Reduction is only possible up to a certain level and even then, the end result could lead to a bland tasting product, thus loosing customer attraction.

So far successful launches are those where sugar is partially replaced by fibre, starch or another bulk ingredient. The loss of sweetness can be countered by using more natural ingredients which do not fall in the range of sweeteners, but which will still add significant taste and sweetness. Think fruits in all their variety: ranging from dried raisins & apricot to the high-end versatile fruit pieces which act as a spot of sweetness and are designed to fully deliver sweet impact without contributing to the overall added sugar content.
Find out more about reformulating for less sugar in baked goods in this Webinar about Sweet Spots.

"Reduced white sugar" is often negatively linked to health by consumers. Consumers often have more positive opinions towards sugars and sweeteners with a familiar natural and less processed image (Source: Mintel).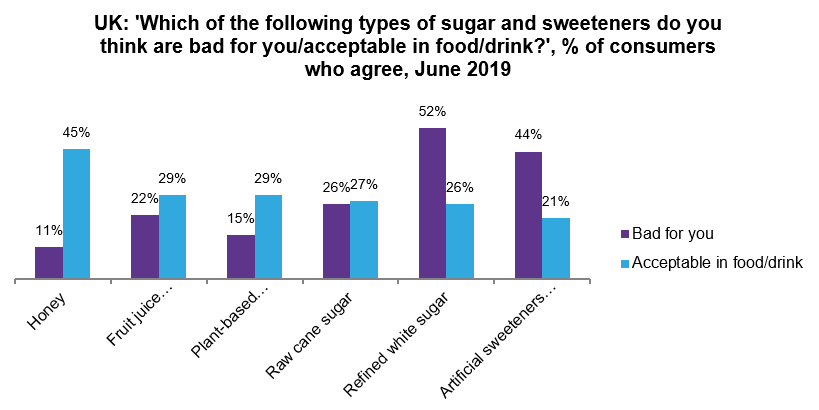 Infographic credit: Mintel
3. Sugar reduction by differentiation
In a world where sugar truly is the ingredient of which content is most scrutinized on the back of pack, there are other options to work around this.
Pack size reduction being one of them. Downsizing consumer portions immediately brings down the sugar content values. A classic example would be the Coca-Cola tins being available in 150ml versions too.
Another one would be to adapt strategy and focus on developments in a less sweeter range of taste. We see vegetables and spices being introduced in formerly more sweet categories. Think the likes of zucchini cheddar cheese muffins or pumpkin chili muffins.
Same as we see products deliberately being positioned with a less sweet profile. Providing hints of sweetness or combinations of little sweetness paired with refreshing sour tastes. This is particulary visible in the drinks segment where we find milk with "a touch of coconut" (Campina) or waters with a hint of lemon/mint/blackcurrant (Spa & Sparkling water).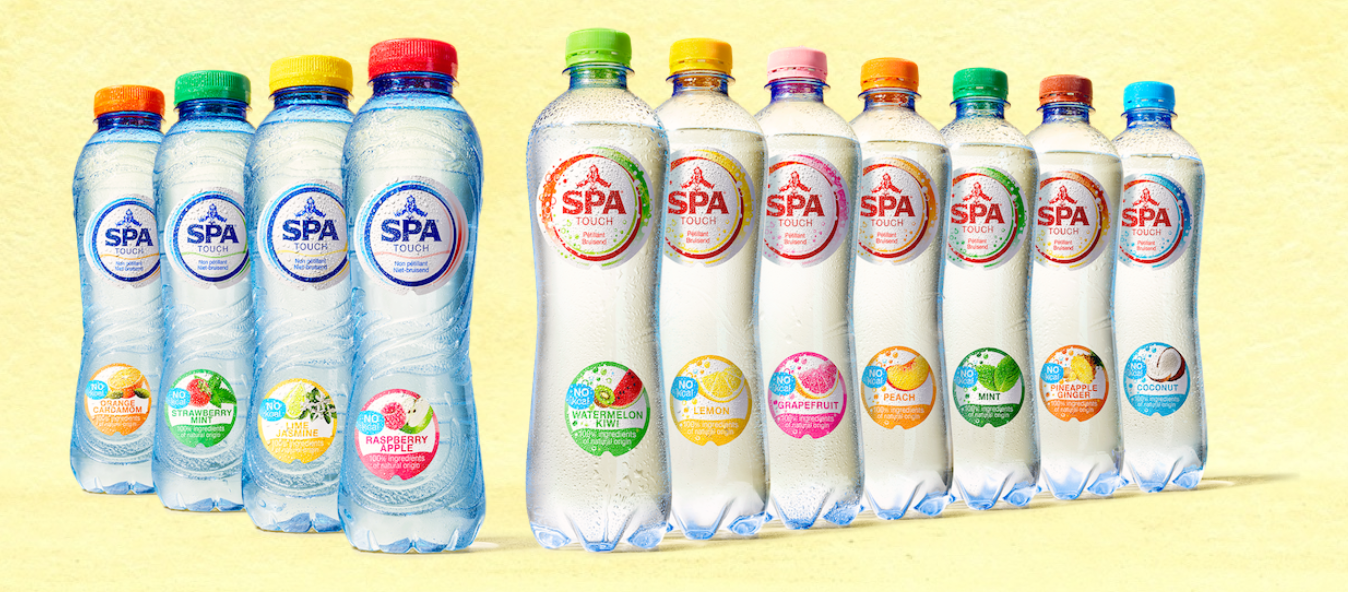 The loss of sweetness can be countered by either going for a less sweet, more savory or spiced up product where the absence of sweetness is covered by a new exciting taste: think ginger, mint, salted. Eg. Farm Brothers dark chocolate & sea salt cookies play in a sweet category with a clear not too overly sweet positioning.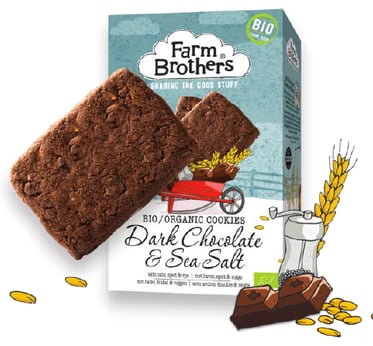 Photocredit:
Farm Brothers
To conclude
The war on sugar is full blast on and daily new insight is reaching us. Matching consumers expectations and needs with the technically possible will be an ongoing search for years to come. But if we see where we come from and what has been achieved in the past years by the combined efforts from industry and governments, the path is set and the route to go is clear. Sugar reduction is an expectation, not an exception.
Let our team help you to find tasty ways to reduce sugar, by using real fruit ingredients.
Find out more about sugar reduction in baked good in this On Demand Webinar: