Texture is a 'superpower' - a product feature not to be underrated as it is a crucial part of our eating experience, influencing product preference and perception of quality. Texture has the power to build memorable experiences. That makes texture a perfect tool to play in the lifestyle territory of Experience Amplified, one of the mid-long term trend territories we defined within PANOPTIC, IFF's proprietary trend & foresight capability. In the Experience Amplified territory, we see consumers' growing desire for new interactions that develop multi-sensory and immersive experiences. It's about creating moments of joy, pleasure and fun to indulge in.
Flavor is always sexy, says Frank Rapacki, Sensory Design at Campbell's, in an interview with MMR in their Texture in Food webinar (October 2022). but texture is the reason why people connect with a product in a unique way (the softness of bread, unique thin texture of crackers, …). Our texture lexicon contains words like: light, crispy, … but are we communicating about attributes that matter to the consumer? Think of the uniqueness how chocolate melts.
Innovation in texture has often lagged behind on innovation in taste. However, combining various textures is a key opportunity to stand out from the crowd, to create a great sensorial experience. Today, textures in food should be in line with the comfort that people are seeking for physical & mental well-being since covid (Source: MMR Texture in Food, Making Impact Series, October 2022). When it comes to nutritional bars, combining various textures is in the top 3 wishes of what consumers want.

In this blogpost, we will shed a light on the changing and challenging market situation of the bar category since 2020, from our own research we will share the top 3 consumer wishes for nutritional bars, and will inspire you with 5 ways to use texture as a differentiator in bars.

In a hurry? Jump to the key take-aways now
Bar Category evolution 2022: Key data and how to win in a category under pressure
The global nutritional/functional bar market should reach $1.7 billion by 2025 from $1.2 billion in 2020 at a compound annual growth rate (CAGR) of 6.8% for the forecast period of 2020 to 2025, we read on BCC Research in May 2022. However, the past 2 years have been challenging for the category, first with covid-19 and then with the economic crisis due to the war in Ukraine.

When covid-19 brought the world to a standstill in March 2020, health and nutrition bar sales slipped 5.8% according to a Bernstein analysis (in March and April 2020), as people remained at home and were less in need of on-the-go nutrients and quick-snack solutions. After this short-term dip, the analyst firm predicted the nutritional bar category would return to overall growth on the strength of mega dietary trends such as wholesome/natural and high protein/low carb (Source: Fooddive).
In 2022 the bar category was hit by the cost-of-living crisis. Quarter 3 showed a 20% decline in demand for nutritional bars versus the same quarter last year (IRI Mulo, 25 September 2022). Mintel reported a decrease of 8% in new snack bar launches introduced in August 2021-July 2022 vs August 2020-July 2021.

In this challenging market situation, snack bars can stay relevant by playing a hybrid role between health and indulgence. In addition to being a source of nourishment, food brings happiness and can contribute positively to mental health. In China, for example, 56% of consumers have eaten delicious food to improve their emotional wellbeing and will continue to do so. Meanwhile in Japan, 26% of consumers haven't tried mood-boosting bars to improve their mood but would be interested in doing so, while 15% have tried and would do so again. Bars brands can therefore position themselves as daily on-the-go nutrition boosters and can play a role in anxiety reduction and mental wellbeing, as part of their positioning. (Source: Mintel Future of Snack Bars 2022)

Tactics to boost consumers' moods include dessert mash-ups, like a celebratory birthday cake flavored bar with sprinkles and inclusions, and a cookies & cream bar with melt-in-the-mouth texture and a product name that takes feelings of guilt away: Love Good Fats. Here are some dessert inspired bars that were recently launched, as a mood booster: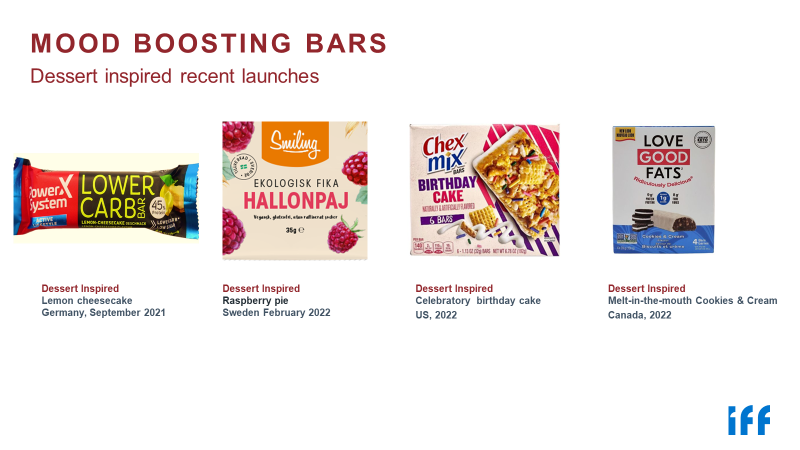 Texture is in the top 3 of Top Consumer Wishes from nutritional bars:
Over 70% of consumers want healthier bars
More natural, sustainable
A better meal replacer and delivering a more indulgent taste & texture experience
(Source: IFF Proprietary Research 2022)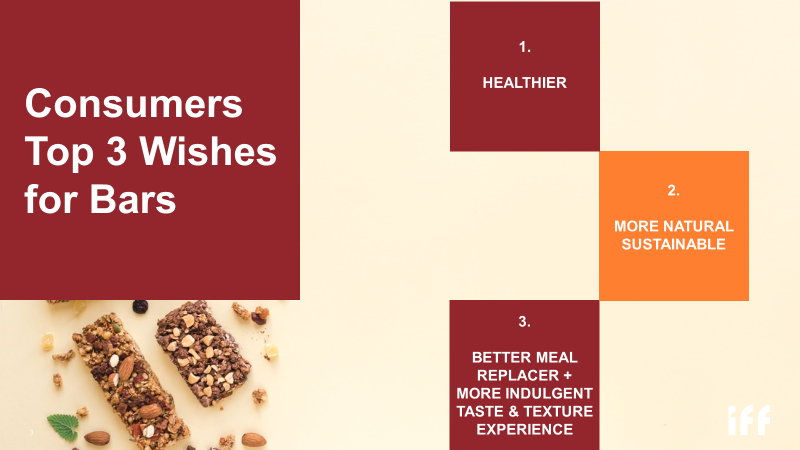 How can your bars brand use texture as a differentiator? Here are 5 tips:


1. Decadence of pastry filling in a bar format
Who doesn't love a gooey fruit filling that reminds you of your favorite pastry? What if we told you if could also bring some better-for-you decadence to snack bars? Visually and texturally intriguing pastry in oblong or rectangular shapes is trending and has found its home on Instagram pages like @foudepatisserie and @antonio.bachour. They are true masterpieces and great inspiration to bring some excitement into fruit bars.

2. Multi-textural variety
Combining multiple textures gives consumers an unexpected mouthfeel, adding an element of surprise. Popular texture combinations include:
Crunchy and creamy
Mousse-like and crisp
But what if we want to take a differentiated, and maybe even healthier, approach to these texture combinations? Here are examples of ways we could approach this through innovation:


A luscious bar could combine soft, chewy fruit + crunchy meringue or cookie.
A protein bar could combine crunchy nuts or vegetables with soft chewy fruit, for a healthy and exciting eating moment
The addition of inclusions (e.g. chia seeds or rice crispies) to fruit can provide more satisfaction and textural variety
A fruit layer on a bar can add a different textural dimension when paired with a crunchy base



3. Which eating moment does your bar cover?
Texture preference is linked with the eating occasion. Consumers associate specific textures with certain times of the day. For example, many enjoy soft and puffy or crumbly snacks in the morning, crispy and chewy snacks for leisure-time and premium soft and puffy dessert textures in the evening. How about enjoying a light puffy dessert-like bar in the evening instead of crisps? We want the pleasure without the guilt and we want it to be easy to eat on the couch. You will find plenty of inspiration on Instagram with #puffedrice.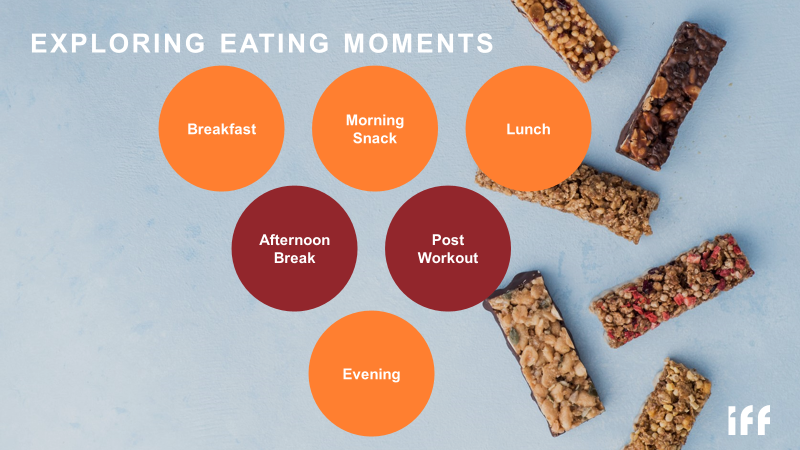 4. Fruit pastes as a healthy binding agent for bars
Fruit pastes can deliver the same textural indulgence as confections whilst being healthier for you in a bar format. The freshness of fruit brings a pleasant and tasty alternative to more commonly known binding agents such as date paste. It gets even better when you think of taste blends, like mango-passion, or strawberry-rhubarb.


NEW: JusFruit Lite reduced sugar fruit binding paste
Did you know?
64% of consumers take sugar reduction consumption as an action to improve their diets in 2021. JusFruit Lite paste is label-friendly and provides food manufacturers with a delicious, plant-based building block to create better-for-you nutritional bars and snacks. Get you JusFruit Lite Factsheet here.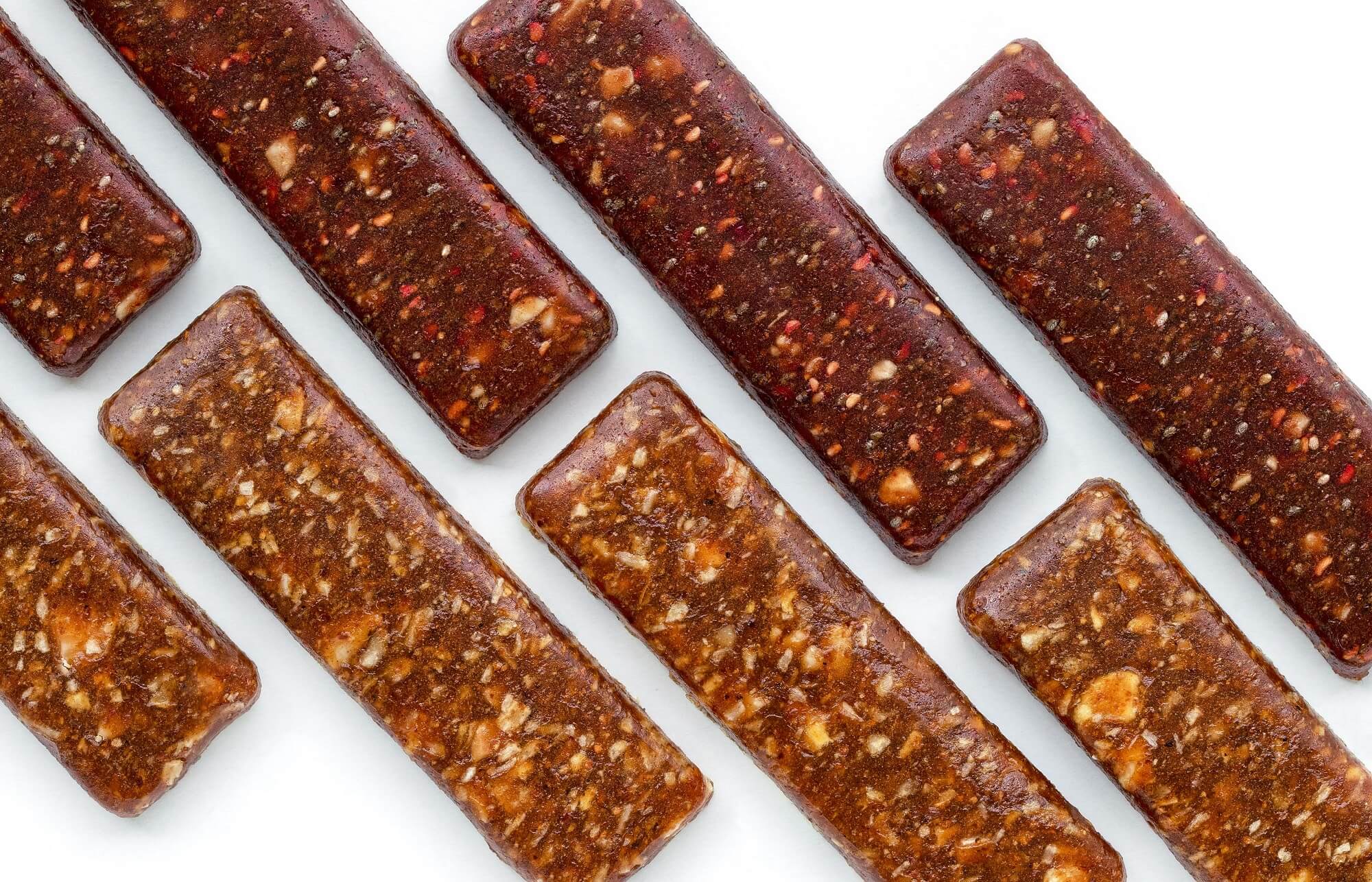 5. Is your nutritional bar Smartphone-proof?
A sometimes overlooked but important feature for snacks: is it easy to eat (without spilling or crumbling or getting sticky fingers)? You could call it the smartphone-proof test: making sure that your bar can be easily consumed by people while handling their phone or while gaming or working on their laptop. Sticky snacks on the go are a no-go, as we read on Snacknation.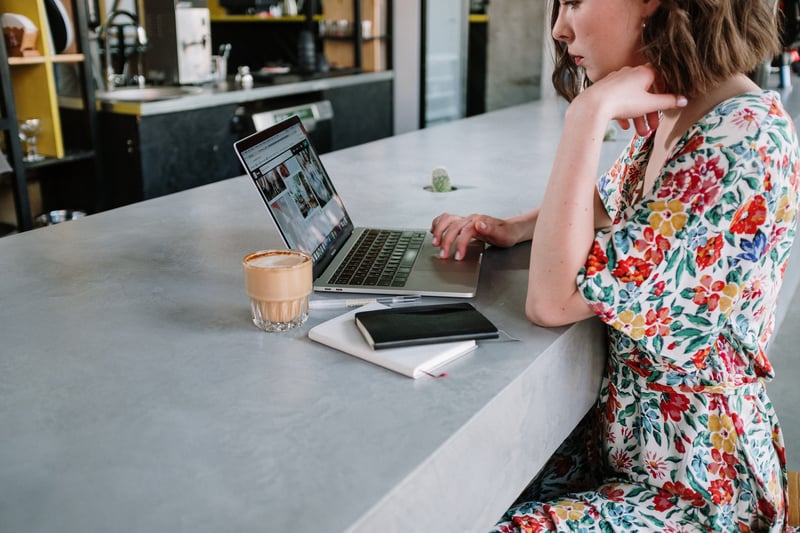 Key take-aways
Texture drives amplified experiences. Taste comes first, but texture is the reason why people connect with a product in a unique way
In a challenging market situation since 2020, bars can stay relevant by playing a hybrid role between health and indulgence
Bars as a nutrition booster. Play on physical health benefits, e.g. by choosing fruit paste as a binder to create a healthier bar, while delivering textural indulgence
Bars as a mental booster: bars can play a role to uplift mood and mental wellbeing, e.g. by playing with dessert-inspired multi-textural concepts
How can we help you?
Do you want to dig deeper into consumer insights about bars? Are you working on challenging innovations in nutritional bars, we would be more than happy to listen and help! Get in touch with us, or have a look at our Capabilities for Nutritional Bars.