What are the challenges facing the bakery category? How can these be addressed? Which primary drivers are behind purchasing decisions and why? It is clear that baked items have won consumers hearts for many years already, but how can this established sector keep consumers enticed with new offerings and how could this space look like in 5 years form now? Here is how we look at the challenges, main drivers and the future for the Bakery Category.
Challenges facing the bakery sector
Balancing health and indulgence
Reformulating for healthier products while maintaining great taste and texture is a key challenge for the bakery industry. The bakery category is driven by taste and indulgence, and taste will always come first. Improving the health perception of bread, muffins and cookies is the way forward and this can be achieved by working with ingredients that simultaneously provide taste and nutrients.
Speed to market
Speed to market with truly unique products is also a challenge. Since Taura is part of the IFF family, we can offer bakery customers full product design, which enables them to bring delightful products to consumers fast.
Innovation
As a very established sector, it's not always straight forward to keep consumers enticed with new offerings. Successful new product development often happens by pairing a classic familiar flavour with an exciting new one. As an example, spicy notes have been on the rise for a while. A familiar flavour like cherry can be paired with chili, and when dosed well, they bring refined flavour and excitement in a cookie, a cracker or in bread. In the Savoury Inclusions Collection, Taura recently launched a number of exciting flavour blends, combining familiar notes with a spicy or botanical flavour, like apricot & rosemary, orange & cardamom, or lemon, carrot & ginger.

Brands need to look at innovating with novel and luxurious flavours and contrasting textures. Think of strawberry cheesecake, caramel and pecan nuts, and orange & dark chocolate.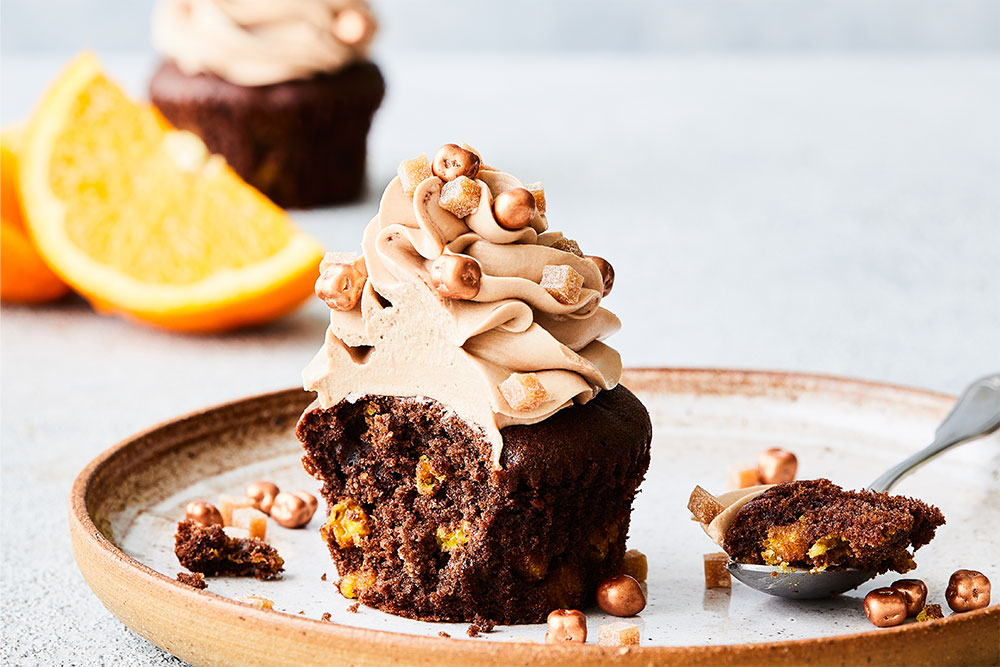 In need of more ideas for new product innovation?
Subscribe to our 6 weeks of inspiration and get new concepts every week!

Drivers behind purchasing bakery products
While consumers are tightening their belts as the economy struggles, they are looking to treat themselves by spending more on 'indulgent' food. However, they don't want to give up on quality. That is why, while keeping an eye on their spending, shoppers still tend to look for high-quality products with health claims such as "immunity". Permissible indulgence, for budget and health.

Apart from affordability, we identify five other key aspects driving the decision making process for consumers.

Feel connected
Since the outset of the COVID-19 pandemic, the bakery category has been boosted by a trend for nostalgia. People discovered home baking again, especially the 'slow down benefits' after a busy day in the home office. Bread and sweet baked goods regained their place in our homes as much-deserved comfort food to share with family and housemates or as a little home office treat just for ourselves. Childhood flavours like strawberry milkshake are especially popular for people in a nostalgic mood.
Feel fulfilled
Learning something new or improving on something gives a gratifying feeling. That is exactly what people are looking for these days. We like to feel accomplished, even if it's just about small things like baking skills. That's why dough pre-mixes are on the rise at the moment. The satisfaction of making something with your hands, plus the calming activity of kneading dough is the perfect way to calm down after a busy week at work.
Feel creative
People are always looking for the perfect snap to share on social media. Whether it's a scenic background for their latest selfie, or one of the many food pictures, the more creative the better!
In your next product development, think about what could make something more creative and look at the latest trends on social media. Create products that are really out-there like a unicorn cupcake or think about products that can make home baked goods more 'instagrammable'. Fun decoration items are a great finishing touch that will appeal to creatives.
Feel no guilt
Furthermore, the need to feel no guilt is also a main driver behind a purchasing decision. A growing number of consumers worldwide pay more attention to their eating habits to maintain good health, but they don't want to lose their little happy moments. This means consumers are constantly looking for snacks that are both healthy and tasty.
This creates opportunities on both sides of the spectrum. While the better-for-you snack brands can use colours, textures and new tastes to develop more exciting snacks, the indulgent snack brands can explore approaches such as size reduction, sugar reduction or calorie reduction to make their snacks more guilt-free.
Want to find out how to make healthy snacks more pleasant? Check out our blogpost, Snacking Healthy and Snacking Fun.
Or, are you more interested in making snacks more "permissible"? Then head over to our blogpost, Sugar Reduction in Baked Goods.
Enjoy my moment
Bakery is an indulgent-driven category. So, the primary driver is creating a pleasant eating moment that people create for themselves or to share with their loved ones. Taste and texture are what matters most in an indulgent eating moment. At Taura, we notice that bakery brands are looking at fruit or vegetable inclusions to create luscious products, like jammy blueberry spots in a muffin. Texture is a sensory attribute that adds great value, too: creating soft and pillowy texture or chewy or light crunchy texture-- these contribute to delightful eating moments, and what the product design team at IFF help bakery customers with daily.
Interested in texture? Learn all about the myths & truths of texture in bakery.
The future of bakery
The combination of health, indulgence and "good for the planet and good for me" will prevail. In the next few years, sugar reduction will become the norm, no longer the exception, so bakery brands will continue to reformulate for healthier recipes while keeping great taste and texture. Fibre will also continue its rising curve, because of increased consumer awareness of the link between gut health and mental health. Taura's recently launched JusFruit Fibre+ fruit inclusions allow to reduce sugar while increasing fibre significantly.
Interested in more?
Fruit inclusions are an ideal way to create multi-sensory bakery products with great taste, texture, aroma and visual appeal. On top of that, the use of fruit inclusions in sweet bakery will allow easier covert sugar reduction and encourage the communication of reduced sugar with minimal taste compromise.

We created a guide that will help you build appeal in baked goods using real fruit inclusions, without the manufacturing challenges.


For an overview of possibilities with fruit inclusions in baked goods, download these brochures:



Set the vibe for an indulgent moment!