The context today: fast lifestyles & health awareness are changing breakfast habits.
Today's health-minded breakfast cereal consumers are increasingly looking for portable and convenient, better-for-you cereal formulations. A sit-down breakfast is a time luxury many cannot afford, and consumers seek something they can eat on the go, not only for breakfast but also on other occasions during the day.
Breakfast food also has a healthy halo, providing 'permission to indulge' for consumers trying to balance healthy and indulgent. Just type #breakfastallday in Google Search or Google Trends and have a look how many hits you get. This is not just a fad, it is a trend that is here to stay.

A recent article in The Wallstreet Journal demonstrates that the sense of innovation urgency in the cereal category is high. Globally, cereal manufacturers are looking for new ways to make cereal 'portable', 'fun', and healthy, appealing to a broader consumer base and moving beyond just breakfast. How can the #breakfastallday trend help the cereal category, which has been under pressure for a while? Let's look at 3 tips for repositioning breakfast cereal as a snack product.
1. Broaden cereal eating moments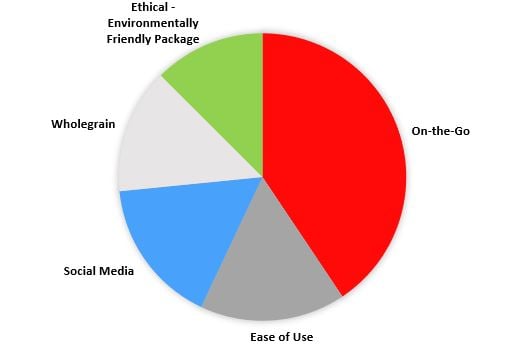 Breakfast cereal can be a nutritious and tasty snack, whether it be in the car or at the office, as an afternoon pick-me-up, or post-workout treat. On-the-go is the leading claim for global new breakfast cereal launches this year: have a look at the infographic above, which shows global new breakfast cereal launches since January 2019 (based on Mintel GNPD).
On-the-go is an established eating moment for breakfast cereal but what about other snacking occasions? Kantar's report "Eat, Drink & Be Healthy (February 2019)" shows that snacking accounts for close to 1 in every 4 at-home occasions, with afternoon and after dinner being the most popular, while morning snacks are growing the fastest.
This is where it gets interesting for cereal: if you look at Kantar's infographic with the most popular snack choices below, you will notice that people tend to choose biscuit-style products in the mid afternoon and after dinner: these are unexplored eating moments for cereal (especially for filled cereal) to position as a guilt-free tasty little treat.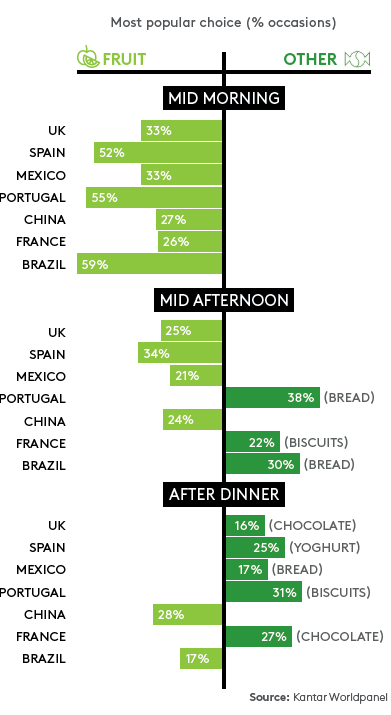 2 . Learn from the proven success of mini snack formats
There is a clear overlap between breakfast cereal and cookies: several breakfast cereal types, like mini waffles or cereal pillows, look like a mini biscuit, which makes them a perfectly permissible snack. #breakfastallday is here to stay.
Let's have a look at KIND Mini's. Global insight specialists from New Nutrition Business made a good analysis of the success story of this product in March. The launch by KIND – one of the most successful 'all-natural' snack bar brands of the last 10 years with over $700 million (€617 million) in sales – saw the company adopt one of the most successful snack brand strategies. When a company can find a way to reconcile indulgence and guilt-free eating, the rewards are significant.
Positioning a product so that people can give themselves the go-ahead to enjoy it and at the same time feel virtuous about their choice, is a very smart strategy.
In the June 2019 report about The Future of Breakfast Cereal, Mintel even dedicated a full section to cereal pillow snacks, to demonstrate how they blur category lines and generate growth.
3. Consider innovating in filled cereal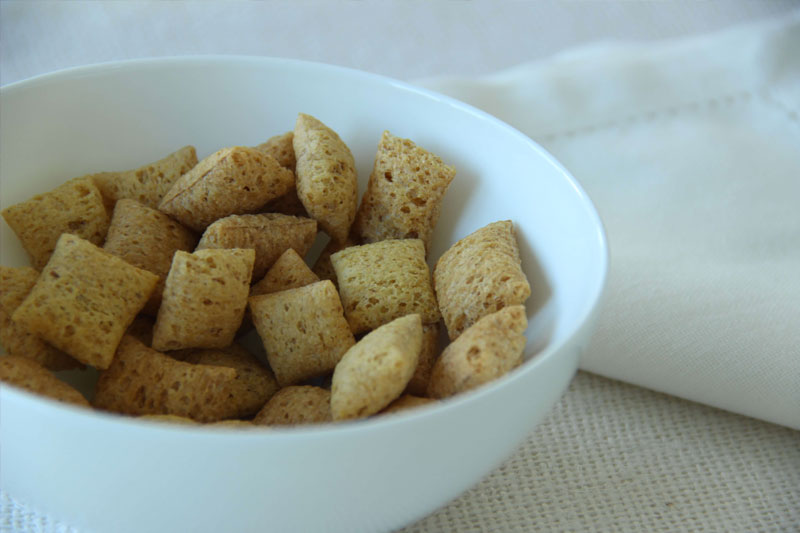 Aimed at both children and adults, new product development activity in filled cereal is on the up. In the five-year period to June 2019, there was a 49% increase in the number of global filled cereal launches, with France taking the lead in innovation (Mintel Report 'Filled cereals meet the need for snackable indulgence', July 2019). The pillow format is similar to that of a mini biscuit and makes them perfect for any-time-of-day snacking, and out-of-home occasions. Looking to Mintel's global new products database we see that, particularly in Europe, in the last 6 months cereal/wheat pillows with a cream-based filling are being positioned in the Bakery – sweet biscuits/cookies category, rather than just the breakfast cereal category.
Due to their indulgent nature and strong visual appeal, cereals with fillings have traditionally targeted the younger end of the age spectrum, however young adults are quickly becoming a particularly interesting audience.
How NPD teams can make this work
Product development opportunities worth exploring
Filled cereals have so far delivered limited flavour experience, with chocolate notes dominating innovation activity. Development opportunities therefore exist to inject greater flavour variety – for example, by exploring:
fruit-based profiles – the added health halo of antioxidant rich berries or superfruit blends
dessert inspiration – think banana-toffee or apple cinnamon for an afternoon pick-me-up!
cocktail & beverage inspiration – imagine coconut/pineapple mojito or banana/berry & spirulina smoothie
Consumers are looking for improvements in cereal products. Cereal products in which natural ingredients replace artificial ones, as well as those with reduced sugar and/or added functional ingredients respond to cereal eaters' desire for healthier alternatives. Think of sugar reduced cereal fillings and sugar-free bindings for granola. The key is finding a way to ensure that the taste and crispy texture of the cereal is not compromised.


Did you know that Taura has a range of very low water activity pastes, that ensure a soft and tasty filling and keep the cereal crispy? Or fruit pieces for porridge?
Check out how to receive a sample.
---
Take aways
The challenge for cereal makers is real, with changing breakfast habits putting traditional breakfast cereal under pressure. The 'breakfast all day trend' is a great opportunity for innovation in the category. Broadening cereal eating moments to an afternoon & evening snack, mini-formats and filled cereal are opportunities worth exploring, if you want to shake things up in cereal.