Clean label, Sugar reduction & rising demand for vegetable based ingredients prevailed at FIE 2019 for Taura
FIE 2019 in Paris was dominated by clean label, sugar reduction, sustainability and naturality. The show was the perfect place & time for Taura to launch 2 new products that enable food brands to reformulate for more fibre and less sugar. Here are the highlights of FIE 2019 through the eyes of our team of R&D, sales and marketing.
Functional Fruit
Functional foods are gaining an increasingly prominent spot in the food and beverage space. Innova Market Insights notes that there has been a 17 percent increase in food and beverage launches with an "active health" claim, when comparing 2018 and 2017 numbers.
Source: Nutrition Insight

The importance of functional food is creating new opportunities for functional fruit: this is the emerging market segment that we see at the intersection of food supplements and snacks. The food supplement sector is looking for more pleasant textures than pills and at the same time the snacking segment is looking for healthy and functional ingredients.
At FIE we introduced fruit pastes and pieces for the first time with new positioning, as a delivery system for functional ingredients like added fibre or active ingredients like iron or echinacea.
Launch Nr 1: JusFruit Fibre+
Shortlisted for a FIE Innovation Award, these fruit ingredients with added fibre can increase fibre content in snacks by 60% and even up to 300% as stand-alone fruit snack.

The fibre deficit among European consumers triggered Taura to develop JusFruit Fibre+, to offer consumers a fun and tasty way to increase their fibre intake. Knowing that even people who eat 8 portions of fruit & vegetables per day do not achieve their daily recommended fibre intake levels, opens up opportunities for snacks to perform a nutritional role, explained Els Vandenberghe, our R&D Manager EMEA at FIE.


Launch Nr 2: JusFruit Puree+
Featuring in the FIE New Product Gallery, this new clean label fruit formula is made with 100% fruit, and without juice concentrates. This brings food manufacturers ahead of the game: they can label their products with fruit purees, which are simple and recognizable ingredients for the consumer.

Food companies who export to the US sure are already aware of the new FDA guidance on added sugar: if juice concentrates are considered as added sugar, removing them from the labels will be key.
To showcase both new products, our R&D team had made tropical bliss balls Fibre+ and Puree+ fruit paste with pineapple flavour, a mix of seeds and coconut dusting. Visitors found them delicious and pleasant to eat, which proves that healthy, functional and tasty can come together in a snack.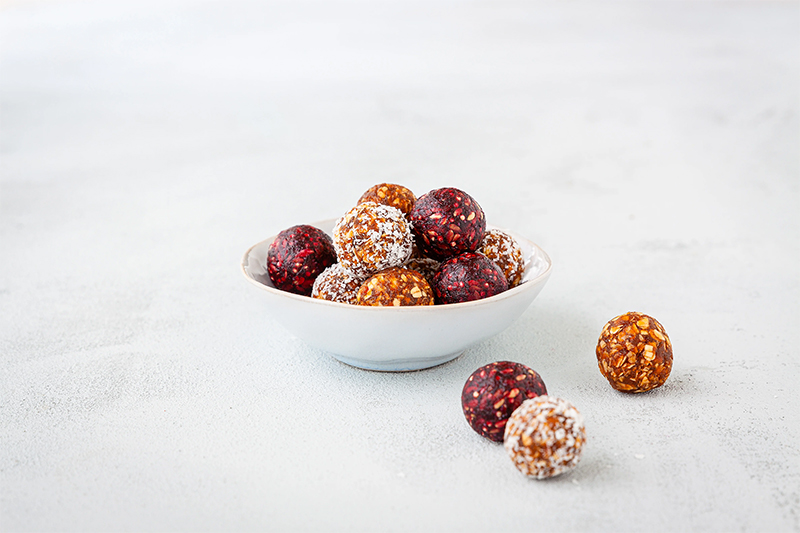 Rising demand for savoury inclusions
We are at the beginning of a trend to use more vegetables in baked goods, said Julian Mellentin of New Nutrition Business. Vegetable based ingredients are starting to replace traditional flour in breads and pizza. At FIE we introduced vegetable-based savoury inclusions with exciting flavours, in line with this vegetable trend and to respond to restless demand of the consumer for interesting tastes & textures. Flavour profiles like masala, bell pepper and bacon-habanero triggered enthusiastic reactions from show visitors, as these ingredients create innovation opportunities in the salty snacking segment.
Wider trends dominating the FIE show & conferences
Clean label
Clean label has been around for a few years and stays important. A 2019 Innova Market Insights consumer survey highlights that two in three global consumers specifically want to avoid products with ingredients that are difficult to understand.
Read more about the clean label trend at FIE 2019.
Sugar reduction
Confirmed by Julian Mellentin of New Nutrition Business, less sugar is possibly one of the biggest long-term shifts and will be reinforced as the new generation of consumer tastes is getting used to lower sugar products.
Sustainability & Naturality
The environment movement is here to stay. People's rising awareness about their impact on the planet and the impact of the environment on our health is influencing food and brand choices. The word "sustainability" was prominent on many booths and certain brands actively displayed their efforts to reduce CO2, some even proving to be ahead of the targets.

In a market driven by health, we saw many brands at FIE displaying "natural" and "close to nature". The ingredients sector is clearly tapping into naturality, clean label and sustainability. We can only applaud this, as we all need to come up to the consumers broader expectations from their food, to do good for their health, their mood and the world.
(*) only 10% of European consumers achieve the daily recommended intake level of 30 g of fibre per day.